CAYAYA BIRDING Guatemala Birding Guides
CAYAYA BIRDING was founded in 2003 by Knut Eiserman and Claudia Avendaño. Both are active field ornithologists in Guatemala since the 1990ies. Knut and Claudia have been leading birding tours in Guatemala since 1998.
Knut and Claudia support ornithology, birding, and conservation throughout the country. Under the umbrella of PROEVAL RAXMU Bird Monitoring Program they produced the first fully referenced annotated checklist of the birds of Guatemala, published in 2007 by Lynx Edicions (Annotated checklist of the birds of Guatemala).
Both coordinated the identification of Important Bird Areas (IBA) in Guatemala, under the umbrella of BirdLife International and the Ornithological Society of Guatemala.
Claudia and Knut have been supporting the development of birding sites in Guatemala such as Los Tarrales; through professional advise, teaching local birding guides, and publicity (web sites, printed publications).
They help to promote birding as hobby among Guatemalans through citizen science initiatives such as Christmas Birds Counts.
---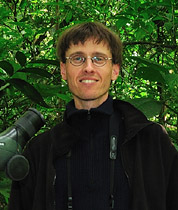 Knut Eisermann, Engineer for Nature Conservation.

Knut leads birding tours in Guatemala since 1998. He speaks fluent English, German, and Spanish. You may read more about his activities on his personal web site Ornithological research and wildlife photography in Guatemala.

Knut was born in 1973 in Chemnitz, Germany and spent his childhood years there. His interest in nature began at ten years of age when his father took him out to observe the local avifauna, later also bats, dragonflies, grasshoppers, and others.

When he was a bit older, Knut joined the Saxon Ornithologist's Association where he dedicated six years to the research and conservation of local populations of Eurasian Jackdaw (Corvus monedula).

Knut later attended the University of Applied Sciences, Eberswalde, Germany, where he studied Engineering of Landscape Management and Nature Conservation. He wrote his thesis on the avifauna of a cloud forest site in Guatemala. Knut lives in Guatemala since 1997. His ornithological studies throughout the country focused on distribution, natural history, and conservation, resulting in numerous papers in ornithological journals and magazines, book chapters, and an annotated checklist of the birds of Guatemala (Lynx Edicions). He served as country coordinator for the compilation of bird records in Guatemala, published in the journal "North American Birds" from 2004 to 2015, and data reviewer of Guatemala bird records in eBird from 2008 to 2015.
---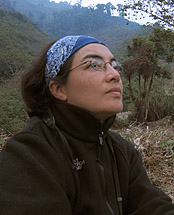 Claudia Avendaño, Biologist.

Claudia leads birding tours in Guatemala since 1999. She speaks fluent English and Spanish.

Claudia was born in 1974 and grew up in Guatemala City, Guatemala. She studied Chemistry and Biology at San Carlos University in Guatemala and wrote her thesis on the avifauna of Laguna Lachuá National Park in Guatemala's northern, tropical rainforest.

During the two years of her thesis research, Claudia acquired an ample knowledge of Guatemalan avifauna and the culture of the Maya Q'eqchi' indigenous population of the country. Based on these experiences Claudia taught three Q'eqchi' farmers from the community of Rocjá Pomtilá a method of scientific bird counts, as part of the PROEVAL RAXMU Bird Monitoring Program.

Claudia has been dedicated to studying birds since 1996 through numerous short-term studies and excursions in national protected areas around the country. She co-authored several publications on the distribution, natural history, and conservation of birds in Guatemala, including an annotated checklist of the birds of Guatemala (Lynx Edicions).

She also is involved in environmental education among farmer's children in several communities. At Los Tarrales she supported a bird festival organized by the Guacamaya Foundation (Holland), and co-organized a bird day within the II Symposium of Loros Mesoamericanos.
---
What birders say who traveled with Knut and Claudia:
"The whole arrangement was excellent with a good mix of habitats, ensuring that we ended up with a very nice trip list (386 species, of which 13 were heard only). Knut Eisermann was a splendid guide, very keen to find our targets and with excellent knowledge of all the birds occurring in Guatemala. A slightly unexpected bonus was his special interest in owls, which meant that owling was an almost nightly exercise. Our final trip list included nine species of owls and they were all seen!" Tomas Hedmark, Sweden (2019)
"Four of us went to Guatemala in the hope of photographing the regional endemics. Thanks to Knut's expertise, we saw and photographed almost all on our wish list. I would recommend CAYAYA BIRDING company for anyone birding or pursuing serious photography in Guatemala. Knut Eisermann not only knows the birds and how to find them, but is an accomplished photographer himself, so he knows just what a photographer needs when in the field. We can't wait to come back."
Richard Greenspun, Florida, USA (2019)
"Five days in the company of Knut Eisermann birding the hills and valleys of the countryside surrounding Antigua, Guatemala was an absolute delight. Knut is as much an ornithologist, with a special interest in owls, as he is a birder and this made the trip extra special. I am a serial guide user in the Americas and Knut is up there with the best of them." Kevin Buckley, New Jersey, USA (2018)
"I had the pleasure of birding the highlands with Knut Eisermann for a week in August with two friends. Besides seeing some mega birds - Horned Guan, Pink-headed Warbler, and Belted Flycatcher for example - I was really impressed by the amazing scenery, delicious cuisine and comfortable accomodations. I hope to book another trip with CAYAYA BIRDING again soon!" Michael C. Duffy, New York, USA. (2018)
"I was able to organize a 10 day trip with Claudia Avendaño for an 11 person group I was leading for Atlanta Audubon. We had a spectacular time! We were able to visit the western highlands as well as the lowland forests at Tikal National Park. In addition to finding life birds and seeing amazing places, this trip had a special focus on shade grown coffee and the Wood Thrush. CAYAYA BIRDING did a great job helping us create a customized itinerary that balanced birding, culture, conservation, and educational opportunities. Claudia was skillful at noticing the needs and desires of each particular group member and adjusting accordingly. She was well prepared and researched and understood what our group desired. The lodging, transportation, and local guides all met or exceeded expectations. I cannot recommend CAYAYA BIRDING and Claudia Avendaño enough and absolutely plan on birding with them again in the future. We were able to see 275 species in 10 days and everyone left happy and healthy." Adam Betuel, Atlanta Audubon Society (2018)
"Knut Eisermann provided my son and I with a wonderful week of birdwatching in Guatemala. He is warm, friendly and fun! His birding skills are second to none. We had a wonderful time and I can't say enough good things about our time with him." Michael Robinson, Washington, USA (2018)
"Just had my second, brilliant trip with Knut Eisermann and CAYAYA BIRDING. Honestly, can't think of how it could have been improved on. Knut and Claudia Avendaño think of every single detail to make sure that everything goes smoothly and that, as a guest, you have the best possible birding experience. Knut is great company and is deeply knowledgeable. We found all the birds we went looking for, and I was lucky enough to get good chances for photos of each species. Spent part of our time together discussing our next trip together ... can't wait. Really recommend CAYAYA BIRDING, with no hesitation whatsoever ... wonderful way to experience a great birding country." Kevin Bartlett, Buenos Aires, Argentina. (June 2018)
"We had an extremely good trip. Everything was organized with an incredible attention to detail; we saw a huge amount without feeling rushed; and the food and accommodation were far better than we had expected. Knut Eisermann is an excellent guide with an incredible knowledge of the birds, wildlife and culture of his adopted home. He is also very pleasant company in the field. Very highly recommended." Graham Tebb, Vienna, Austria. (2018)
"I just returned from a very productive birding trip down to Guatemala with my primary focus being warblers. I had a target list and managed to find all of them thanks to the expert guiding from Knut Eisermann. I let them know exactly what species I was looking for and they planned an itinerary that would give us the best chances of finding them. I would highly recommend them as they know where the birds are, get you on them and tailor the tour to whatever you want to find. Although Knut is originally from Germany he has been down in Guatemala for 20 years so knows the country very well and I always like providing business to local guides when I travel." Larry Therrien, Massachusetts, USA. (2018)
"We spent two weeks in Guatemala to see the specialty birds of the region. It was the right decision to ask CAYAYA BIRDING to organize our tour. Knut Eisermann was a perfect guide knowing all the birds, the secret places and the culture of the people. He involves local guides which helps finding the birds and supporting the communities. We did see all the special birds of the region we were hoping for plus several real rarities like Unspotted Saw-whet Owl. Being impressed by the incredible landscape, the friendliness of the people, the Mayan historical sites and the many birds, we will come back to Guatemala and we will definitely contact CAYAYA BIRDING again to organize our next trip." Jochen Baurmeister Frauke Jordt, Pennsylvania, USA, and Frankfurt, Germany. (2017)
"Knut Eisermann took a friend and I in search of rare species. Even though we weren't able to reach one area due to road closures, Knut was able to quickly come up with alternate locations and great birds. He is a very personable and skilled guide that i would recommend to anyone wanting to bird Guatemala. Also he is a very safe driver." Ken Havard, Canada. (October 2017)
"Claudia Avendaño was very professional and knowledgeable. Her English was impeccable, and I felt very comfortable spending the day with her. She was lightening quick with her spotting scope, and as a result I was able to see many birds I never would have seen without her assistance. She was a good listener and answered all my questions. I was impressed with her keen ear for the birds. I would highly recommend CAYAYA BIRDING tours to any bird lover. It is worth every penny!" Tina Collins, USA. (June 2017)
"The trip was absolutely the best. I have been on many guided trips to a number of countries, but none were more well organized and thought out than yours." Dennis Shirley, Utah, USA (May 2017)
"CAYAYA BIRDING are the Guatemala experts. For expert guiding, logistics planning and knowing where the birds are, you can't beat the team of Knut Eisermann and Claudia Avendaño! Thanks for a great trip, guys!!" Mark Conrad, Arizona, USA (May 2017)
"We were very pleased with our trip. Very much appreciated the expertise of Claudia Avendaño, who demonstrated extensive knowledge of birds, habitats, and ecology. Everything from our timely pickup, birding, meals together, and transportation was pleasant and professional. Claudia was very patient with our desires to take photos, and linger at various spots. She was an expert in quickly locating and drawing a bead on numerous species." Bryan & Judy Hollinger, USA. (May 2017)
"It was a delightful trip from beginning to end. Communication was clear in the planning stages and throughout the entire trip. And, most especially, Knut Eisermann and Claudia Avendaño were 'over-the-top' birders! We loved their total friendliness and cheerfulness and their skills at hearing, seeing and identifying Guatemalan birds was amazing." Ann and John Reichhardt, Colorado, USA. (February 2013)
"My experience in Guatemala could not have been better. Knut Eisermann is a very accomplished guide who knows the birds beyond field guide information." Mark Lockwood, Alpine, TX, USA. (April 2014), senior author of The TOS Handbook of Texas Birds.
"Claudia Avendaño and Knut Eisermann organized a one week custom tour for Pacific slope bird specialties and the cultural attractions of colonial Antigua and Lake Atitlán. Knut was an outstanding guide and personable companion. His knowledge of the birds is encyclopedic, and his sharp eyes and perseverance were greatly appreciated." Robert Orenstein, Atlanta, Georgia, USA. (December 2007)
"CAYAYA BIRDING is outstanding: they not only offer world-class guides, but remarkably comfortable accommodation. They have taken care to ensure good relations with the communities they visit, which means you will not only see a long list of endemics and rarities, but also learn a lot about Guatemala's cultural diversity." Matthew Koch, Victoria, British Columbia, Canada. (June 2015)
"Our guide, Knut Eisermann was excellent! I was impressed by his bird knowledge, phenomenal eyes and ears, and on how well he took care of us. He was charming at all times, attuned to all of our needs both birdwise and otherwise, and extremely patient and considerate. He is lightning-fast on getting a bird in the scope! He is also a very safe driver. We had a delightful time. Claudia Avendaño was very prompt on her responses to all of our queries. Her pre-trip information was comprehensive and very clear. I would highly recommend that anyone interested in birding Guatemala contact them first."
Lorna L. Engleman, MD, and Dodge Engleman, MD, San Antonio, TX. (December 2014), Co-authors of: A bird-finding guide to Panama.
"Birding with Knut Eisermann and Claudia Avendaño is a double benefit. Not only do you get the best birding experience and expertise, but you are also supporting conservation and habitat/ecological awareness efforts through their programs with locals. Teach the local people about birds, employ them as paid citizen scientists, increase awareness about caring for the earth and support the local economy." Ruth Stewart, Vermont, USA. (March 2012)
"We found Knut Eisermann an extremely knowledgable, enthusiastic, patient and attentive leader. He knows the birds, the locations, the people. He involves local guides that he trained himself wherever possible - we were impressed by this. His sense of humour is also an asset." Ian D. Harrison, Aberaeron, UK. (April 2013)
More testimonials ...
---