CAYAYA BIRDING supports birding and ornithology in Guatemala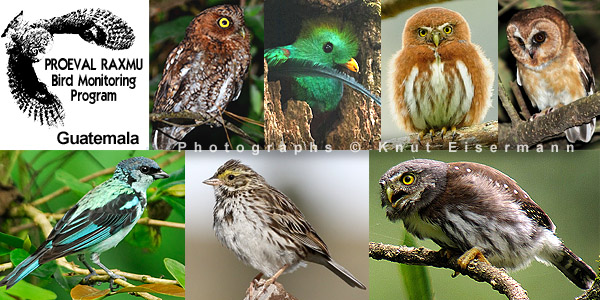 CAYAYA BIRDING supports the following initiatives:
Ornithological research: funding support for field research and publications (Bird Studies Guatemala, formerly PROEVAL RAXMU Bird Monitoring Program).
Christmas Bird Counts in Tikal, at Atitlan Volcano, and in Antigua Guatemala - organization, funding support, and data compilation of three Audubon Christmas Bird Counts since 2006.
Development of birding sites. Advised by CAYAYA BIRDING, Los Tarrales Reserve developed as world-class birding destination.
Publicity for Guatemalan birding destinations. CAYAYA BIRDING has developed several web sites to promote birding, incluyding for Los Tarrales and published several articles in international birding magazines.
Sustainable tourism in the Yalijux mountain range. CAYAYA BIRDING supported the conservation association UPROBON for 15 years.
Support for the Ornithological Society of Guatemala (Sociedad Guatemalteca de Ornitología) - we developed and we are sponsoring the web site of the Ornithological Society of Guatemala, and support the creation of an ornithological library.
We help several community members to become local birding guides, e.g. in Los Tarrales Reserve, Sibinal, and Todos Santos Cuchumatán.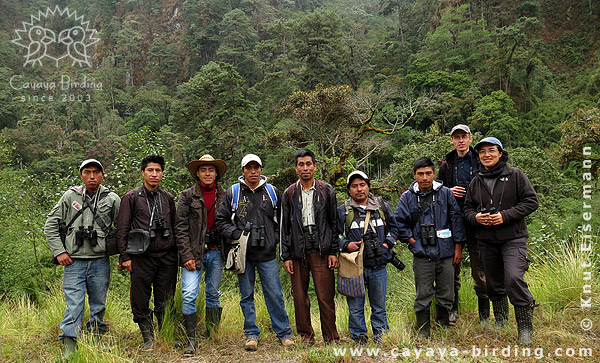 Public education:
We publish in international and national media on birds and bird conservation in Guatemala, for instance an Annotated Checklist of the Birds of Guatemala (Lynx Edicions, 2007), on the Guatemalan IBAs in the German birding journal FALKE and in the birding journal of the Neotropical Bird Club NEOTROPICAL BIRDING, and in the Sep/Oct 2007 issue of WINGING IT, newsletter of the American Birding Association. The Christmas Bird Counts were covered in BIRDING and FALKE, and the Guatemalan press.
We supported the first, Second, and Third International Birdwatching Encounter in Guatemala in 2005, 2006, and 2007.
---