Sibinal is a small town nestled in a 2500 m (8200 ft) high valley in the western highlands of Guatemala. The skyline around town is shaped by 3000 m (9840 ft) high ridges of the Sierra Madre, the 4100 m (13440 ft) tall Tacaná volcano, and at the distance Tajumulco volcano, with 4200 m (13760 ft) the tallest peak of Central America.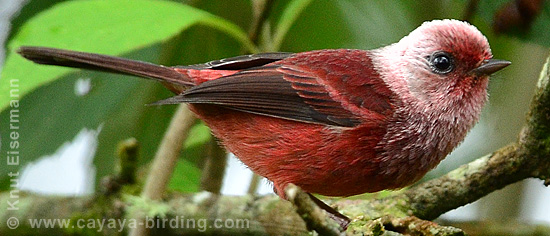 Mountain slopes around Sibinal are covered with pine-fir forest, alder woodland, humid broadleaf forest, scrub, small scale corn and vegetables fields, and savannah-like pastureland for sheep. Several sites near Sibinal offer great birding and hiking in an impressive landscape. The area is home to a set of bird species endemic to northern Central America and the Sierra Madre mountain range (Mexico and northern Central America), including Pink-headed Warbler, Crescent-chested Warbler, Black-headed and Black-capped Siskin, Black-throated Jay, Amethyst-throated, Garnet-throated, and Wine-throated Hummingbird, Horned Guan, Highland Guan, Blue-throated Motmot, Black-capped Swallow, Rufous-browed Wren, Rufous-collared Thrush, Brown-backed Solitaire, Blue-and white Mockingbird, (Guatemalan) Yellow-eyed Junco, Hooded Grosbeak, Yellow Grosbeak, Golden-browed Warbler, and Guatemalan Pygmy-Owl. Sibinal provides principal touristic services such as hotels and small restaurants. Three birding sites with trails can be reached within a 20 min to 1.5 h drive from Sibinal.
Unión Reforma is a village on a 2900 m (9500 ft) high ridge east of Sibinal, reachable within a 20-min drive from Sibinal. A 2.5 km long loop trail leads through second-growth alder forest and tangents a fragment of cloud forest, where Horned Guan has been recorded (but it requires much good luck to see it). Pink-headed Warbler is common, and can be readily observed and photographed at eye level especially along the open sections of the trail with low arrayan shrubs. Unión Reforma is a reliable site for seeing Black-capped Siskin, especially during the dry season. Black-throated Jays are often seen in the alder forest. Mixed flocks during the winter months are joined by Townsend's, Wilson's, Pink-headed, Crescent-chested, and Golden-browed Warbler, Blue-headed Vireo, Spot-crowned Woodcreeper. (Guatemalan) Yellow-eyed Junco and Spotted Towhee are common in open areas. The insect-like trills produced by vibrating feathers of displaying male Broad-tailed Hummingbirds are readily heard especially during the northern winter.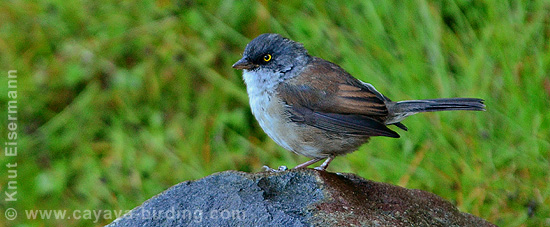 Canjulá is a municipal forest reserve of the town of Sibinal. The park is located at 2700 m (8860 ft) and can be reached with 4-WD vehicle from Sibinal in 20 min. A 3 km long loop trail leads through cypress plantation, pine-oak forest, cloud forest edge, alder woodland, and open scrub. The dense conifer plantation is home to Brown Creeper and Golden-crowned Kinglet. Bird diversity increases where the conifer stands border to cloud forest, where Common Bush-Tanager, Emerald Toucanet, Chestnut-capped Brushfinch, Yellowish Flycatcher, and Golden-browed Warbler can be observed. Pink-headed Warbler is common in all forest, woodland, and scrub habitats. Ocellated Quail lives in the alder woodland and open scrub, but it requires much good luck to see it. Yellow-eyed Junco and Spotted Towhee are common in the open scrub habitat.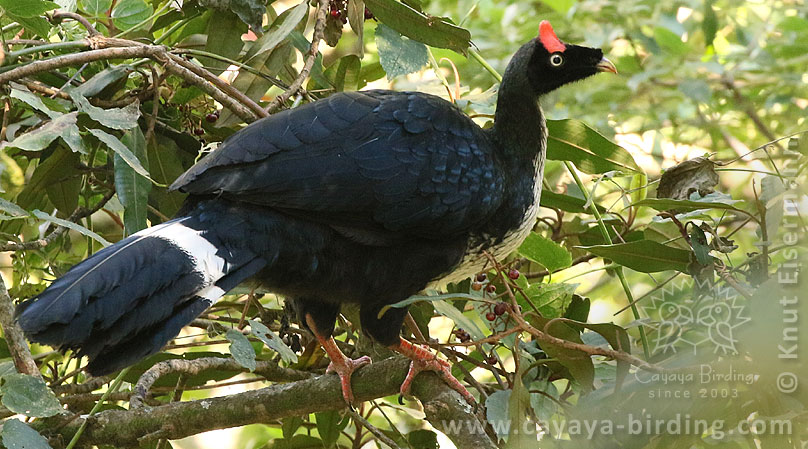 Vega del Volcán is a village nestled in a steep-sloped humid valley on the northeastern foot of volcano Tacaná. The village can be reached by 4-WD vehicle in 1.5 hours from Sibinal. Cloud forest between 2600 and 2900 m altitude is home to avian stars such as Resplendent Quetzal and Pink-headed Warbler. With some good luck even Horned Guan and Maroon-chested Ground-Dove can be seen. Other typical high-elevation cloud forest birds include Common Bush-Tanager, Mountain Thrush, and Garnet-throated Hummingbird. The ridge between Vega del Volcán and Sibinal harbors a fragment of high-elevation coniferous forest with firs, pines, and cypress, which is home to Golden-crowned Kinglets.

Tacaná volcano is a dormant giant of 4100 m (13440 ft); the last eruption was observed in 1986. The volcano can be climbed on a rather easy hiking trail (provided body fitness for high-elevation) through alter woodland, agricultural fields (small plots of potatoes, sheep pasture), pine forests, small patches of fir forest, and vegetation-free rocky area on the upper part. The trail starts from Haciendita at 3200 m (10500 ft), which can be reached by 4-WD car from Sibinal in 1 hour.
Access and accommodation: Sibinal is off the beaten track, but basic tourist services such as hotels and small restaurants have evolved recently. A paved road connects Sibinal to San Marcos, but the access to some of the nearby birding destinations requires a 4-WD vehicle. A camping-style shelter (simple rooms, shared, sometimes non-functional bathroom) is available in Vega del Volcán.

For independent travelers: We would be happy to organize your trip to Sibinal. Please fill this reservation form and we will send you information on rates and space availability as soon as possible.
When is the best time for a visit to Sibinal? Birding in Sibinal is promising all year round. The best time might be the dry season and early rainy season December to May.
How do you support conservation and development in Sibinal? Sibinal is part of the Important Bird Area Tacaná-Tajumulco (IBA GT013). With your visit to help to develop an alternative, non-destructive land use in the area. Local guides are organized under the roof of ADAFIS (Asociación de Desarrollo Agroforestal Integral Sostenible), which works for forest conservation in Sibinal.