Guatemala Birding Loop

by

CAYAYA BIRDING
This birding tour provides a good overview of the birds of Guatemala by visiting the three major biogeographic regions: the highlands and the lowlands of the Pacific slope and the Atlantic slope. More than 300 bird species can be expected during this tour, including many endemics of the north Central American highlands and species which are rare throughout the Neotropics, such as Orange-breasted Falcon.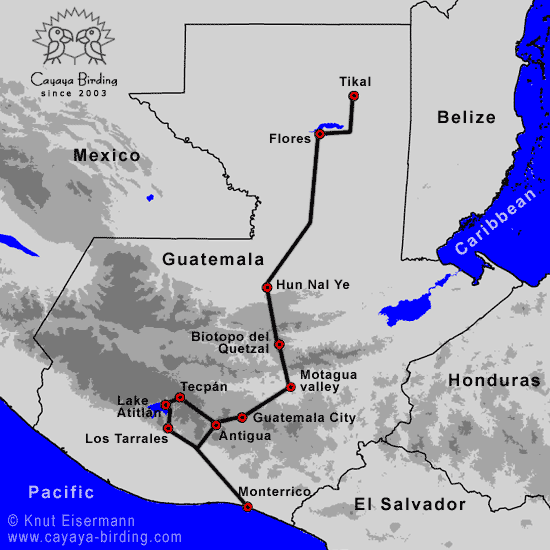 15 days / 14 nights birding tour in Guatemala.
Birding Hotspots included:
Hun Nal Ye, and
Highland specialties such as Rufous Sabrewing, Green-throated Mountain-Gem, Emerald-chinned Hummingbird, Guatemalan Flicker, Blue-throated Motmot, Rufous-browed Wren, Rufous-collared Robin, Blue-and-white Mockingbird, Pink-headed Warbler, Azure-rumped Tanager, Prevost's Ground-Sparrow, Bar-winged Oriole, and others.
Pacific slope birds: White-bellied Chachalaca, Yellow-naped Parrot, Blue-tailed Hummingbird, and Long-tailed Manakin.
Atlantic slope specialties such as Orange-breasted Falcon, Ocellated Turkey, Black-throated Shrike-Tanager, and Gray-breasted Chat.
More than 300 bird species can be expected.
Tour operation January to December.
Accommodation: comfortable hotels and lodges.
Optional services
Hike to the habitat of Horned Guan: strenuous hike which requires additional logistics.
Tour to the habitat of the Belted Flycatcher (seasonal).
Coffee tour: about 1 hour, most interesting during the harvest season from November to January.
Short tour through ornamentals plantation.
Trip to handicrafts market near lake Atitlán.
Archeological tour in Tikal.
Extension to Monterrico: Three additional days, operation October-May. Waterbirds in reed swamps and mangroves by boat trip on the Pacific coast.
Testimonials and trip reports
November 2017, modified Guatemala Birding Loop
"We spent two weeks in Guatemala to see the specialty birds of the region. It was the right decision to ask CAYAYA BIRDING to organize our tour. Knut Eisermann was a perfect guide knowing all the birds, the secret places and the culture of the people. He involves local guides which helps finding the birds and supporting the communities. We did see all the special birds of the region we were hoping for plus several real rarities like Unspotted Saw-whet Owl. Being impressed by the incredible landscape, the friendliness of the people, the Mayan historical sites and the many birds, we will come back to Guatemala and we will definitely contact CAYAYA BIRDING again to organize our next trip." (Trip list)
Jochen Baurmeister Frauke Jordt, Pennsylvania, USA, and Frankfurt, Germany.

April-May 2016, customized 2-weeks birding loop for 6 birders
"In May 2016 five friends and I were guided by Cayaya Birding in western Guatemala and Tikal NP. This was my second birdwatching tour with Knut and Claudia (principals of Cayaya) and both trips were truly excellent. Knut and Claudia work together as a smooth team to ensure that everyone's needs are met -- every day of the tour.
An unexpected highlight of the recent trip was spotting a Baird's Tapir in Tikal -- a thrill for everyone!"
Mike Mulligan, Canada.

"I cannot believe the patience you two had for us all!! The different personalities, and abilities in a group can only present some amazing challenges for you...but you both handled them well! This was the most organized group birding trip I have been on! Thank you so much for such a wonderful time visiting and sharing in the life and birds of Guatemala!"
Diane Kook, USA.

April-May 2008, 4th Big Birding Tour of the Saxon Ornithologists' Association (Trip report)
"A birding tour how it should be!"
Hartmut Meyer, Hohenstein-Ernstthal.

"This tour was very well organized with an excellent selection of hotels, restaurants, and of course the different bird habitats. It was impressive, how safely our target species were found."
Dr. Klaus Fabian, Dresden.

February 2005, Guatemala Birding Loop
"We were 6 senior Danes, however still quite venturous and with great love for nature, some of us especially keen on birds. We found Cayaya Birding on the internet which we never regretted. We got the most excellent service with regard to planning a trip quite according to our wishes and with their professional advice. More than 300 birds were seen during the 17 days we spent in Guatemala. Knut has a talent for spotting, hearing, and recognizing everything. And for our guidance he was carrying these very heavy field guides all the time, so that he could at once show us in the books the birds in question and point out their characteristics. We learnt a lot, and we loved all the sites on the trip. As an extra service, Claudia joined us during the trip to Monterrico, because of the small boats where we had to split up in two groups. They wanted us to have a guide on each boat - isn't that service ! And it was nice for us to get this opportunity to meet Claudia, who had done so much work for us in planning our trip, not only in Guatemala, but also in El Salvador, where we were going afterwards. The tour with Knut and Claudia was quite exceptional, not only because of their professional competence and their ability to take care of our well-being, but also because of their great sense of humour which meant that we enjoyed their company so much." See trip report by Kirsten Geertz-Hansen
Kirsten Geertz-Hansen, Farum, Denmark.
---