Hun Nal Ye opened its doors to visitors in 2007. A lodge and trails in rainforest and open habitat invite for a day or two of good birding. The site is hidden between karst hills north of the city of Cobán, at an elevation of 400 m (1,300 ft). In the 19th century, one of the most important bird research stations in Guatemala was located in that area. The Englishman Osbert Salvin collected specimens and established the base of bird records for the rainforest in the foothills north of Cobán.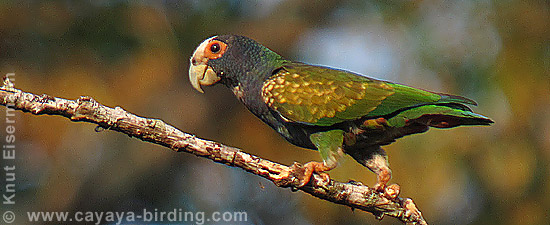 Although much of the formerly extensive rainforest of northern Alta Verapaz is gone because of agriculture, Hun Nal Ye presents a nice sample of bird species typical of these forests. Fragments of lush rainforest –fed by about 3000 mm of rain annually–, tree-shaded cattle pasture, and crystalline blue rivers fringed by gallery forest, make up an interesting mosaic of habitats.
The Atlantic slope foothills belong to the bird-richest areas in Guatemala. Keen birders can see at Hun Nal Ye more than 100 species in one day. A birding day at Hun Nal Ye begins right at the porch of the beautiful and comfortable cabins. Fish ponds invite a Ringed Kingfisher to come by for a meal each day, as well as several kinds of herons (Great, Cattle, and Snowy Egret, Little Blue and Great Blue Heron), especially during migration season.
A few meters from the lodge winds a small river through cattle pasture. In the gallery forest several tanagers can be seen, including Yellow-winged, Blue-gray, and Golden-hooded Tanager. Among other fruit-eaters to be seen are Yellow-throated and Olive-backed Euphonia, Clay-colored Robin, Keel-billed Toucan, and Collared Aracari. Tropical tyrant-flycatchers in the surroundings of the lodge include Sulphur-bellied Flycatcher, Greenish and Yellow-bellied Elaenia, Social, and Boat-billed Flycatcher. Several species of parrots may be seen flying overhead or feeding in the trees: White-crowned, Mealy, and Red-lored Parrot, and Olive-throated Parakeet. Brown-hooded Parrots are more restricted to the forest.
In seeding grassy areas several seedeaters are readily seen: White-collared and Variable Seedeater, Blue-black and Yellow-faced Grassquit. Dense secondary scrub offers habitat for Rufous-tailed Spinetail and Green-backed Sparrow. The open habitat allows free views to the sky for overhead flying birds as Vaux's and Lesser Swallow-tailed Swift, Gray-breasted Martin and Northern Rough-winged Swallow, Gray Hawk and Swallow-tailed Kite.
Entering the forest you are welcomed by chips of lekking Stripe-throated (formerly Little) Hermits. The forest trail leads to leks of Long-billed Hermit and Scaly-breasted Hummingbirds. Flocks of Black-faced Grosbeaks roam trough the canopy, animated to come down by fruiting midstory trees, where they meet with Red-capped Manakins. You may have the chance to see the display dances if you wait for a while where the calls and wing snaps of the manakin's males are heard. With some good luck you may even see a Great Tinamou along the forest trail.
Mixed-species foraging flocks are joined by Red-crowned Ant-Tanager and Tawny-crowned Greenlet in the understory, and Lesser Greenlet and Black-throated Shrike-Tanager in the canopy.
Bird activity drops notedly at noon – the right time for a refreshing swim in the turquoise-colored natural pool in the crystalline forest river. On the way back to the lodge you may extend your bird walk along a trail trough tree-shaded cattle pasture. This habitat supports forest canopy birds. In the tree crowns you may observe different tanagers, euphonias, Masked and Black-capped Tityra, and Gartered Trogon.
How to get there and accommodation: Hun Nal Ye is accessible on paved and dirt road from Cobán via Cubilhuitz. Hun Nal Ye has 5 cabins with a total of 10 double rooms with fan, private bathroom, and hot shower. The restaurant and a swimming pool are nearby. Electricity is generated by water power at the site. All visits must be reserved in advance.
When is the best time for a visit in Hun Nal Ye? All year long.
How do you support conservation and development in Hun Nal Ye? With your visit you support efforts at Hun Nal Ye to preserve valuable pieces of rainforest in a highly fragmented landscape. The tourism program also provides income to local people from the neighboring communities.