Christmas Bird Counts in Guatemala
organized by Cayaya Birding

CAYAYA BIRDING has reanimated Christmas Bird Counts in Guatemala. We have organized the first Christmas Bird Count in Tikal in 2006, which was the first in Guatemala after a hiatus of more than 30 years. Currently, Cayaya Birding organizes Christmas Bird Counts in Tikal, at Atitlan Volcano, and in Antigua Guatemala.

See the reports of the 2012 counts: Atitlan Volcano and in Antigua Guatemala.

To learn more about the history of Christmas Bird Counts in the Americas, visit National Audubon Society's website. More than 50,000 volunteers participate in more than 2,000 Christmas Bird Counts throughout the Americas. Objective of these counts is to monitor the status and distribution of bird populations in the Western Hemisphere. Counts are conducted in a period of 24 hours in a circle of 15 miles diameter. The National Audubon Society coordinates Christmas Bird Counts since 1900.
Download a PDF of an article on Christmas Bird Counts in Guatemala,
published in the 2011 March issue of BIRDING by the American Birding Association.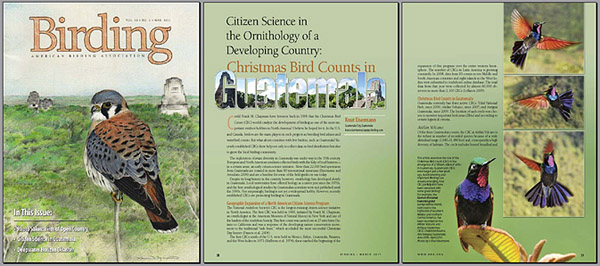 Contact Us | Site Map | Privacy Policy | Terms and Conditions | Web Resources