List of participants (group leaders in bold-face)
Eladio Arévalo García, Christian Artuso, Claudia Avendaño, Francisco Bedoya, Bianca Bosarreyes, Efraín Caal, Roberto Caal, John Paul Cahill, Peter Cahill, Rob Cahill, Ruth Cahill, Tara Cahill, Nathan Cahill, Oswaldo Chi Dubón, Carlos Contreras, Marcial Córdova, Knut Eisermann, Kyle Elliot, Aquiles Estuardo Hernández, Armando García Córdova, Melanie Guigueno, Julio Madrid, Miguel Marín, Brian McNab, Roan McNab, Jairo G. Méndez Fión, Rony A. Méndez Fión, Luis Oliveros, Maynor Ovando, Luke Daniel Penner, David Samuel Rodriguez, Andrés Rosales, Israel Segura, Pablo Alejandro Soto, Lemuel Valle, Rachel Susan Yoner. Compiler: Knut Eisermann. Secondary compiler: Claudia Avendaño, Roan McNab.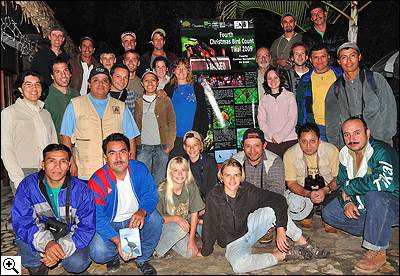 Participants of the 4th Christmas Bird Count in Tikal. The final meeting was kindly hosted by Hotel Jaguar Inn.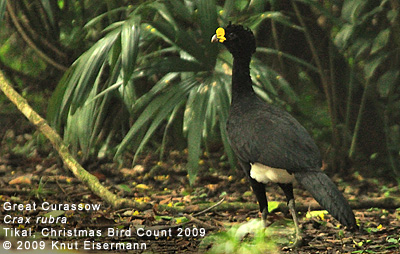 Male Great Curassow in the Tikal archaelogocial site.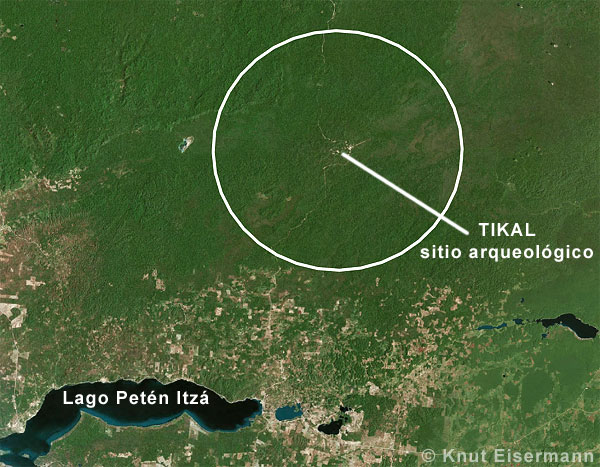 Satellite image of northeastern Petén. The Christmas Bird Count Tikal (white circle) samples bird communities of the largest Neotropical forest north of the Amazon basin. The CBC circle includes tall broadleaf forest, scrub swamp forest, forest edge, open habitat, lagoons, and creeks.



A White-necked Puffird on a dead tree.



Adult Ornate Hawk-Eagle in the canopy in the Tikal National Park.



Magnolia Warbler was one of the most abundant Nearctic-Neotropical migratory birds in the Tikal National Park.



Gray-headed Tanager is a common ant-follower in Tikal.



Gray-throated Chat is an uncommon bird in Tikal.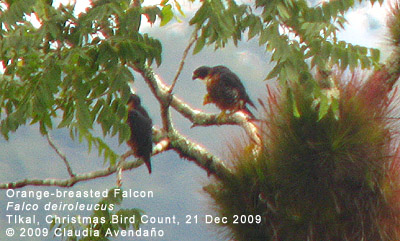 Pair of Orange-breasted Falcon perched on a distant tree.