Volcano-Mangrove-Birding-Tour

in

Guatemala

with

CAYAYA BIRDING
One-week birding tour to see endemics of the north Central American highlands around Antigua and Atitlan volcano, and waterbirds in reed swamps and mangroves on the Pacific coast. A visit to the coastal wetlands is especially interesting during spring migration.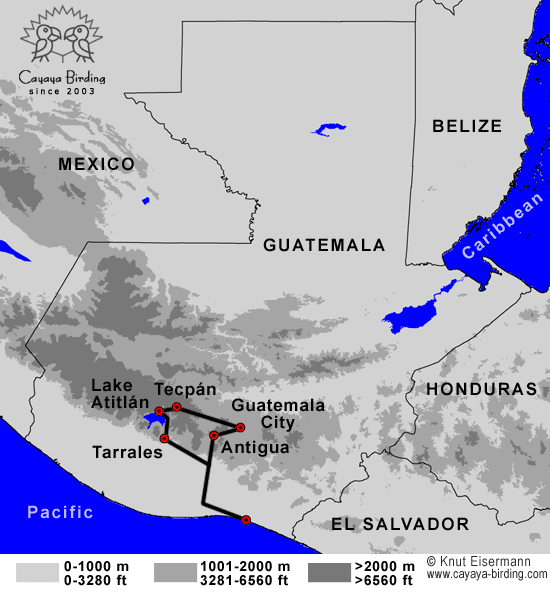 8 days / 7 nights itinerary (including arrival and departure days).
Birding Hotspots included: Antigua Guatemala, Lake Atitlán, Los Tarrales Reserve, Monterrico.
Highland specialties: Rufous Sabrewing, Green-throated Mountain-Gem, Emerald-chinned Hummingbird, Guatemalan Flicker, Blue-throated Motmot, Rufous-browed Wren, Rufous-collared Robin, Blue-and-white Mockingbird, Azure-rumped Tanager, Prevost's Ground-Sparrow, Bar-winged Oriole, and others.
Pacific slope lowland birds: White-bellied Chachalaca, Yellow-naped Parrot, Blue-tailed Hummingbird and Long-tailed Manakin.
Waterbirds: American White Pelican, Pinnated Bittern, Least Bittern, Limpkin, several heron species and shorebirds, Sungrebe, Purple Gallinule, Northern Jacana, American Pygmy Kingfisher, and others.
Tour operation January to December. Waterbirds in Monterrico are most abundant from October to May.
Accommodation: comfortable hotels and lodges.
Optional services
Tour to the habitat of the Belted Flycatcher.
Hike to the habitat of Horned Guan: strenuous hike which requires additional logistics.
Coffee tour: about 1 hour, most interesting during the harvest season from November to January.
Short tour through ornamentals plantation.
Trip to handicrafts market near lake Atitlán.
Testimonials
November 2004, Volcano-Mangrove-Tour:
"I was looking for a birding tour to take in November 2004. I scanned the birding tour companies and I came across Cayaya Birding. The website is maintained by Knut Eisermann, the co-owner and tour guide. Knut has put a tremendous amount of work into the site. In addition to the normal information, he has included area descriptions, bird species list for each area and much more useful information. The tour was a customized one: we visited pine and oak forests, dry forest, coastal areas, coffee palntations and some highlands. The birding was outstanding as was the guide. Knut is a wonderful guide as his knowledge of the birds and their songs is remarkable. The Cayaya Birding staff had all the logistics worked out well and the entire trip was a great success. In short, I had a great time birding in Guatemala. Thanks Knut."
Jerry Miller, Simi Valley, California.

More testimonials ...
---