CAYAYA BIRDING
Specialized birding tours in

Guatemala

since 2003



Photo of the Month
November 2023Guatemala is an attractive birding destination in Central America with more than 770 bird species and a high diversity of ecosystems. CAYAYA BIRDING offers top quality birding tours and day trips - private and for small groups - designed for birders, led by Knut Eisermann, Claudia Avendaño, and knowledgeable local guides. Knut and Claudia are passionate birders and guides, live and study birds in Guatemala and have published numerous contributions to Guatemalan ornithology, including an Annotated Checklist of the Birds of Guatemala (Lynx, 2007). Since more than 20 years, they enjoy showing Guatemalan birdlife to world birders (what birders say about CAYAYA BIRDING).
---
CAYAYA BIRDING tours Guatemala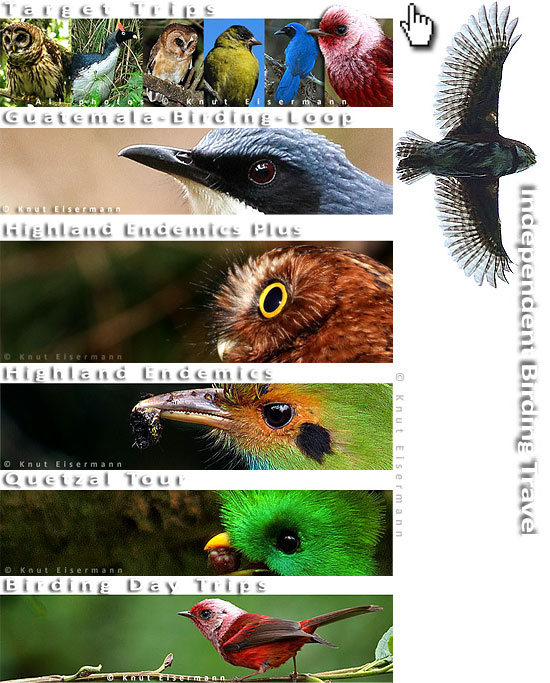 ---
Birdwatching Guatemala with CAYAYA BIRDING

At CAYAYA BIRDING Guatemala:
we operate small group birdwatching tours to guarantee the best possible birding conditions, to keep our impact on the natural environment as low as possible, and to ensure personalized service. We lead tours in English, German or Spanish.
we organize all ground travel using minibuses or coasters and, where necessary, 4-wheel-drive-vehicles. We stay in beautiful and peaceful eco-lodges and hotels, where you see birds even during your rest. Vegetarian meals and other special diets are always made available upon request.
we have been successfully organizing and leading expert birding tours in Guatemala since

2003

. Our knowledge on birds, people, and country is based on more than 20 years of ornithological field research, travelling, and conservation work. We reside in Guatemala, and when not leading birding tours, we are in the field finding out new things about special birds, training local guides, supporting the development of birding lodges and areas, finding new and exciting birding hotspots, and supporting conservation initiatives.
Start here planning your birding trip to Guatemala, using our online form or by telephone/WhatsApp: (502) 5308 5160:
---