Pacific and Highland Endemics
A short birding tour focused on the Pacific slope highlands between Guatemala City and lake Atitlán. Chance to see many of the endemics of the north Central American highlands, including Pink-headed Warbler and Azure-rumped Tanager.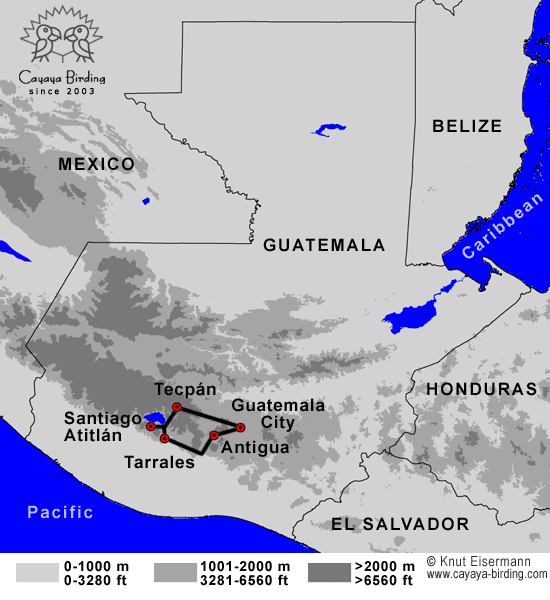 6 days / 5 nights birding tour.
Birding Hotspots included: Antigua Guatemala, Tecpán, Los Tarrales Reserve.
Highland specialties: Rufous Sabrewing, Green-throated Mountain-Gem, Emerald-chinned Hummingbird, Northern Flicker, Blue-throated Motmot, Rufous-browed Wren, Rufous-collared Robin, Blue-and-white Mockingbird, Pink-headed Warbler, Azure-rumped Tanager, Prevost's Ground-Sparrow, Bar-winged Oriole, and others.
Pacific slope birds: White-bellied Chachalaca, Yellow-naped Parrot, Blue-tailed Hummingbird, and Long-tailed Manakin.
Tour operation January to December.
Accommodation: comfortable hotels and lodges.
Optional services
Hike to the habitat of Horned Guan: strenuous hike which requires additional logistics.
Coffee tour: about 1 hour, most interesting during the harvest season from November to January.
Short tour through ornamentals plantation.
Trip to handicrafts market near lake Atitlán.
---