Comments about CAYAYA BIRDING
April-Mai 20114, 16-tägige Vogelbeobachtungsreise für Bartmeise-Reisen (Reiseleiter: Knut Eisermann, Reisebericht):

"Als ich von BARTMEISE-REISEN das Angebot für eine 16-tägige vogelkundliche Reise durch Guatemala erhielt, habe ich mit der Buchung nicht lange gezögert. Der Reiseablauf sowie die umfangreichen Informationen auf der Homepage des örtlichen Reiseunternehmens CAYAYA BIRDING haben mich davon überzeugt, dass es sich um eine außergewöhnlich attraktive Erkundungstour handelt. Gemeinsam mit weiteren drei Ornithologen habe ich mich vom 25. April bis 10. Mai 2014 in die Obhut unseres Reiseleiters Knut Eisermann begeben. Rückblickend kann ich feststellen: Diese vogelkundliche Reise hat meine Erwartungen in jeder Hinsicht übertroffen. Die Gesamtorganisation war hervorragend und die Auswahl der Hotels und Lodges entsprach den Vorstellungen. Der Reiseverlauf berücksichtigte unterschiedliche Lebensräume und schuf somit gute Voraussetzungen, um zahlreiche und zum Teil auch seltene Vogelarten beobachten zu können. Am Ende der Reise standen beachtliche 356 Arten auf der Gesamtliste. Diese Bilanz ist vor allem Knut Eisermann zu verdanken, der nicht nur hervorragende Kenntnisse über die Vogelwelt Guatemalas besitzt, sondern auch ein exzellenter Beobachter ist. Beeindruckend war dabei insbesondere seine Sicherheit, mit der er auch seltene Vogelarten im dichten Regenwald aufspürte. Knut Eisermann habe ich nicht nur als einen begeisterten Ornithologen kennen gelernt, sondern zugleich als einen engagierten Anwalt in Sachen Natur- und Artenschutz. Seine liebenswürdige und umsichtige Betreuung gehört neben den außergewöhnlichen Eindrücken über das Land - einschließlich der zahlreichen faszinierenden Naturerlebnisse - zu den unvergesslichen Erfahrungen dieser Reise. Guatemala war für mich ein Erlebnis der besonderen Art. Für Ornithologen und natürlich auch für Naturfreunde mit anderen Interessengebieten ist dieses Land ein beachtenswerter Geheimtipp!"
Peter Tischler, Halle (Saale).

"Ich kann die Reise jedem Orni empfehlen, der sich intensiv mit der Vogelwelt Guatemalas vertraut machen will. In zwei Wochen bekommt man die wichtigsten, meist sogar seltensten und zudem überwiegend farbenprächtigen Vögel des Landes gezeigt. Ich hatte nie das Gefühl bedroht zu sein, eine Gefährdung für mich konnte ich im ganzen Land nirgends erkennen."
Reinhard Möckel, Sonnewalde.

"Die Neotropis, als vogelreichste Region der Erde, sollte jeder Ornithologe einmal besucht haben. Einen besonderen Stellenwert nimmt dabei Mittelamerika ein, da hier alle weitreisenden Zugvögel Nordamerikas auf schmalem "Pfad" durchziehen. Ganz besonders empfehelnswert ist dabei Guatemala mit seinem exzellenten Guide-Paar Knut Eisermann und Claudia Avendaño."
Volker Löschner, Bornsdorf.
---
April 2014, 11-days tailor-made tour for seeing special birds of northern Central America (Tour leader: Knut Eisermann):

My experience in Guatemala could not have been better. Knut is a very accomplished guide who knows the birds beyond field guide information.
Mark Lockwood, Alpine, TX, USA.

A fantastic tour! Very well-organized, with friendly, enthusiastic, and expert guides that knew where to find the birds we wanted to see. They made sure we were well taken care of, and they worked hard to ensure that everyone in our group saw the birds we were targeting. All lodging was highly satisfactory and we never missed a meal. Extremely pleasant and highly recommended!
Paul Sunby, Austin, TX, USA.
---
March 2014, 9-days tailor-made tour for Quetzal Tours, Colorado (Tour leaders: Knut Eisermann & Claudia Avendaño):

This trip is a must for any avid bird watcher that loves to experience beautiful birds and nature while hiking through beautiful countryside. This trip had a perfect blend of bird watching, flora and fauna and culture. The guides Knut and Claudia are superb!
Karen Hopf, USA.

I was pleased with every component of this tour.
Warren Bilkey, USA.
---
December 2013, 9-days tailor-made tour for Quetzal Tours, Colorado (Tour leader: Knut Eisermann):

I highly recommended Cayaya Birding! My trip to Guatemala was the birding trip of a lifetime for me. It was relaxing and fun and I was astonished by the number of birds I was able to observe in 6 days. Our guide, Knut, was fabulous! He had keen senses and in-depth knowledge of the local birds. He was able to get a scope focused on hard to see birds in a flash! Knut is not only an outstanding bird guide, but also has an easy going personality with a great sense of humor. The trip was very well organized and went smoothly, despite weather-related flight cancelations that got us to Guatemala City a day later than originally planned.
Melannie Hartman, USA.
---
April 2013, 12-days tailor-made tour for seeing special birds of northern Central America (Tour leader: Knut Eisermann):

A great trip with an excellent guide. Our trip went smoothly and we saw more speciality species than we expected.
Dave Sargeant, Thailand (Trip report).

We found Knut Eisermann an extremely knowledgable, enthusiastic, patient and attentive leader. He knows the birds, the locations, the people. He involves local guides that he trained himself wherever possible - we were impressed by this. His sense of humour is also an asset.


Ian D. Harrison, Aberaeron, UK.
---
February 2013, 9-days tailor-made tour for Quetzal Tours, Colorado (Tour leaders: Knut Eisermann and Claudia Avendaño):

It was a delightful trip from beginning to end. Communication was clear in the planning stages and throughout the entire trip; we were met directly outside the Guatemala City airport upon arrival; we had good accommodations and transportation and great food. And, most especially, Knut and Claudia were 'over-the-top' birders! We loved their total friendliness and cheerfulness and their skills at hearing, seeing and identifying Guatemalan birds was amazing. The whole experience was so enriching and enjoyable that it makes us want to return for more!
Ann and John Reichhardt, Colorado, USA.

My expectations for the trip were filled far beyond my expectations. There was never a moment when I was not emersed in the culture of Guatemala or its environment. From sun-up to sun-down. I never expected to be as totally engaged as I was and still am.
Rita R. Kelley, Colorado, USA.
---
March 2012, 9-days tailor-made tour for Quetzal Tours, Colorado (Tour leader: Knut Eisermann):

Birding with Knut and Claudia is a double benefit. Not only do you get the best birding experience and expertise, but you are also supporting conservation and habitat/ecological awareness efforts through their programs with locals. Teach the local people about birds, employ them as paid citizen scientists, increase awareness about caring for the earth and support the local economy.
Ruth Stewart, Vermont, USA.

Knut and Claudia make an ideal team: she covers office duties, is gracious and thorough as a client liaison, and is a good-humored and skillful guide when she gets out to bird. Most importantly, she is an excellent listener, a highly valued skill when dealing with tourists from many places, all with their special "needs." Knut is Cayaya´s expert in the field: driver, translator, cultural explainer, and feather-smoother when there is friction. Of course, he is an ace at wildlife hunting and identification (in several languages). It does not hurt that he also has a wonderful sense of humor, a broad European education, and a refreshingly modest sense of self. (What a welcome break from being guided by some bird experts with their enormous egos!) He is sensitive to client needs at every turn, and his quick-draw scope set-up was a marvel.

Furthermore, when we asked about Culture, Ethnicity and Politics (all potential landmines for a guide), Knut had just the right touch: he was able to create even more interest in us with his very subtle take on all these questions. We came home curious to learn more.

Cayaya is very careful with client safety; we were happy that they took advantage of Guatemala´s "park police escorts," who, while usually quite young, were punctual, reliable, and at least looked dauntless as they followed or accompanied us here and there off the beaten track. We felt that this was another way of showing Guatemalans that tourists value the natural world they have in abundance; and that most of us want to see old-growth forest surviving in their country.

We much admired Cayaya's effort to find and train locals to carry on and expand the mission of conservation throughout the country. Their Christmas Bird Count is a marvel of determination and organization: one that many Audubon chapters in the U.S. might envy (and not just because of the exotic birds).

Visit Guatemala - the endemics are sensational; and the experience as varied, colorful and rich as any you will find elsewhere in the Southern Hemisphere.
Linda and Jean-Pierre Georges, Colorado, USA.
---
August 2011, Booking of services for independent travelers (hotels, transportation, local guides):

We have just returned home from Guatemala and I wanted to send you a note to express how thoroughly we enjoyed our travels in your country: our trip was everything and more than we had imagined and wished for!! We feel fulfilled by the beauty of the land and the kind spirit of the people. We are extremely grateful for your help in making our trip come together; every service which you arranged for us was wonderful, without exception.

By far, the absolute best part was your wonderful guides: Josué and Luis!! At our request, our tours with them were conducted in Spanish. They taught us so very much, generously sharing their knowledge and expertise, as well as their love for nature, community and their homeland. They listened to our interests and fine-tuned the touring for our needs. They were patient and professional and fun.

The drivers were all professional, punctual and conscientious about our safety and comfort.

Guatemala is now in our hearts! Thank you, Claudia.
Laura Werner and Joe Rivera, USA.
---
June 2011, Booking of services for independent travelers (hotels, transportation, local guides):

My Wife and I used Cayaya Birding to arrange all of our ground transportation, lodging and guides for our trip to Tikal, Guatemala. Claudia was wonderful to work with and everything from the van driver to our birding guide Luis were absolutely top notch. The trip was an outstanding experience. I would give my highest recommendation to Cayaya Birding for anyone traveling to Guatemala.
Russ Roundy, Spokane, Washington.
---
March 2011, 21-days tailor-made tour focused on bird photography (Tour leader: Knut Eisermann):

Very recommendable for touring Guatemala!
Peter Wächtershäuser (Bad Homburg, Germany) www.naturlichter.de
---
September 2010, birding tour with local bird guides:

If birding in Guatemala CAYAYA BIRDING is your best bet!
Augusto Faustino (Portugal).
---
November 2010, birding tour incl. Pacific and Atlantic slope highlands, and Tikal (Tour leader: Knut Eisermann and local guides):

My wife, Becky, and I recently spent two weeks birding and travelling in Guatemala with another couple where we used Cayaya Birding for logistical support and bird guiding. We were extremely pleased with both aspects including the local guides that they have identified and mentored. Knut and Claudia are developing the birding eco-tourism industry in Guatemala and we would highly recommend them to any groups or independent birders considering a trip.
Jim Carlson (Eugene, Oregon, USA).
---
1-9 May 2010, Tikal and Pacific slope highlands (Leaders: Claudia Avendaño and Luis Oliveros):

We were particularly impressed with the knowledge and proffessionalism of our guides Claudia and Luis. We particularly appreciated the time that they took to drive us around and to explain to us the history and the many cultures of Guatemala. We feel that we had a very personalized trip and picture of Guatamala. A very special adventure.
Anita and Marlin Jones (Sidney, British Columbia, Canada, and McCall, Idaho, USA).
---
15-25 April 2010, customized hummingbird tour (Leader: Claudia Avendaño and Knut Eisermann):

Claudia was great in helping us set up our tour. She asked us questions that helped us to have a better tour. Claudia greeted us at the airport upon arrival and was our tour guide the first afternoon. We had a leisurely afternoon as far as hard core birding goes, however, when the afternoon was over Claudia had already found over twenty birds that was on our target list. Not to mention, countless of other birds that was not on our list. Claudia was fun to be with, enthusiastic, patient, and a great birder.

The next morning we were met by Knut at our hotel. Knut too was a joy to be around, and a fantastic birder. Knut always had energy to spare of which we could have used a little of his at times. Knut knew where to look for targeted birds. He recognized them instantly by sound, and sight, and was good at directing us so we could see them. His skills with his spotting scope were commendable. Knut also has a wide set of natural history skills outside of birds that anyone should take advantage of. Knut´s people skills were as good as his birding skills. Whether you are looking for target species or just interested in a general birding tour. We strongly recommend Cayaya Birding Tours.
Gretchen and Stanley Jones, Bryan, TX, USA.
---
24 December 2009 - 1 January 2010, Tikal and Pacific slope highlands (Leader: Knut Eisermann):

Great birds, great scenery, great food, great trip. My son and I had a wonderful and memorable time. Knut and Claudia did an excellent job for us, and we hope to visit Guatemala with them again soon.
Iain Ewing (Ewing Communications), Singapore.
---
27 December 2009 - 5 January 2010, Pacific slope highlands and Tikal (Leader: Claudia Avendaño):

Claudia organised our trip perfectly. We had some terrific birding in the highlands and at Tikal, with a good insight into the highland region and the chance to explore the great ruins at Tikal. We should have stayed longer!
Marcus I'Anson, Uxbridge, Middlesex, UK.
---
11-17 November 2009, Pacific and Highland Endemics Tour with CAYAYA BIRDING (Leader: Claudia Avendaño):

In the short period of five days, Claudia and Josué showed me 135 bird species around Antigua, at Tecpán and at Los Tarrales, including Pink-headed Warbler, Tody Motmot and lots of hummingbirds, many species that are difficult to find anywhere but in Guatemala. If one includes a tour to the Atlantic slope, which I did not do, Guatemala is a good alternative to visiting Costa Rica. I liked particularly how Cayaya Birding collaborates with Los Tarrales to bring sustainable agriculture, nature conservation, ecotourism and ornithological science together.
Hans-Ulrich Bernard, Irvine, CA, USA.
---
September 1-7, 2008, Pacific Slope and Highland Endemics Tour with CAYAYA BIRDING (Leader: Claudia Avendaño):

"My husband Herman D´Entremont and I had a wonderful introduction to Guatemalan birds and culture which we describe in detail at http://theworld.com/~eva/guatemala.html. In short, Herman got thirty-some life-birds and I got nice avian photo-ops. We were safe and comfortable and well fed throughout the week, and we met great people. Herman has a few disabilities which Cayaya Birding accommodated beautifully. Two thumbs way up!"
Eva Casey, Somerville, MA, USA.
---
26 April - 12 May 2008, 4th Big Birding Tour of the Saxon Ornithologist's Association with CAYAYA BIRDING See trip report (Leaders: Knut Eisermann and Claudia Avendaño):

"A birding tour how it should be!"
Hartmut Meyer, Executive Director of the Saxon Ornithologist's Association, Hohenstein-Ernstthal, Germany.

"This tour was very well organized with an excellent selection of hotels, restaurants, and of course the different bird habitats. It was impressive, how safely our target species were found."
Klaus Fabian, Dresden, Germany.
---
28 December 2007 - 3 January 2008, Customized Birding Tour with CAYAYA BIRDING (Leader: Knut Eisermann):

"Claudia Avendaño and Knut Eisermann organized a one week custom tour for Pacific slope bird specialties and the cultural attractions of colonial Antigua and Lake Atitlán. Knut was an outstanding guide and personable companion. His knowledge of the birds is encyclopedic, and his sharp eyes and perseverance were greatly appreciated." See trip report
Robert Orenstein, Atlanta, Georgia, USA
---
May 2007, 5 days birding tour focused on regional endemics with CAYAYA BIRDING (Leader: Knut Eisermann):

"In 2005, my wife and I went to Guatemala on holiday for a week in November. During that trip, we arranged a 3 day birding trip with Cayaya Birding to look for the Horned Guan. We had a very successful (albeit very strenuous) hike up the side of Volcano Atitlan, the highlight of which was prolonged looks at two Horned Guans looking back at us. I was very impressed with everything about Knut Eisermann, co-owner, chief cook and bottle washer for Cayaya Birding. He is a brilliant field ornithologist, a great logistician and an all-around very pleasant fellow. Thus when business took me back to Guatemala in May 2007, I pre-arranged a 5 day trip with Knut once again. My goal this time was to look for Resplendent Quetzals and look for highland rainforest owls." See trip report
Alan van Norman, Bismarck, North Dakota, USA
---
May 2007, 5 days birding tour focused on regional endemics with CAYAYA BIRDING (Leader: Knut Eisermann):

"I thought the tour was very well organized. Knut is a very good bird guide and knows the birds very well. The places we stayed, especially Tarrales and Chelemha were wonderful."
Patty O'Neill, Milton, MA, USA

"I found Knut knowledgable and full of energy. We found birds effeciently. The accommodations were good and the food excellant."
Bob Walton, USA
---
April 2007, 8 days birding tour focused on regional endemics with CAYAYA BIRDING (Leader: Knut Eisermann):

"Until recently, I'd never thought too much about birding Guatemala. Our trip with Knut has convinced to return as soon as possible and see more of this fascinating country. Experiencing the Mayan culture and the fabulous birds in the mountains is something I'll never forget. Having traveled with other birding companies, I'd have to recommend Cayaya Birding over the others for personal service and effort given to show us every possible species. A truly remarkable experience. "
Howard King, Riverside, CA, USA

"Knut and Claudia are amazing.....we told them what we wanted to see and they planned a perfect itinerary. We saw almost all of our target birds! Can't wait to do another trip with them! "
Lori Conrad, Hermosa Beach, CA, USA
---
March 2007, 10 days birding tour with CAYAYA BIRDING (Leader: Knut Eisermann):

"Cayaya Birding did a great job for us and was outstanding both in terms of the birding and the logistics of the trip. Knut Eisermann and Claudia Avendaño, who run Cayaya Birding together, are deeply knowledgeable about the avifauna of Guatemala, are great birders and organized everything without a hitch. They are working hard surveying the birdlife in Guatemala, developing birding and eco-tourism through local lodges such as Los Tarrales and Chelemha (described below), and exposing Guatemala as a first rate birding destination with marquee species that may be found more easily in Guatemala than in any other area. We would heartily recommend them for anyone interested in birding in Guatemala." See trip report
Jeffrey F. Peters, Weston, MA, USA
---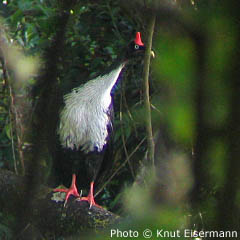 March 2005, 3 days customized birding tour in Guatemalan highlands with CAYAYA BIRDING (Guide: Knut Eisermann):

"Guatemala was a pleasant surprise: perhaps two well-kept secrets should be dispelled now. 1. There is a good tourist infrastructure, better than expected, with comfortable accommodation and decent roads. 2. There is a knowledgeable local birder (Knut) who can show you all the birds, including Horned Guan (see photo), Azure-rumped (Cabanis') Tanager and Blue-throated Motmot. Anyone interested in wildlife or Mayan culture will not be disappointed. For the serious birder, there is the chance to see some rare species not easily seen elsewhere in Central America. There should be no reason to put off a trip to Guatemala: start your planning now."
Geoff Dobbs, County Bird Recorder, East Yorkshire, England.
---
February 2005, 17 days customized birding tour with CAYAYA BIRDING:

"We were 6 senior Danes, however still quite venturous and with great love for nature, some of us especially keen on birds. We found Cayaya Birding on the internet which we never regretted. We got the most excellent service with regard to planning a trip quite according to our wishes and with their professional advice. More than 300 birds were seen during the 17 days we spent in Guatemala. Knut has a talent for spotting, hearing, and recognizing everything. And for our guidance he was carrying these very heavy field guides all the time, so that he could at once show us in the books the birds in question and point out their characteristics. We learnt a lot, and we loved all the sites on the trip. As an extra service, Claudia joined us during the trip to Monterrico, because of the small boats where we had to split up in two groups. They wanted us to have a guide on each boat - isn't that service ! And it was nice for us to get this opportunity to meet Claudia, who had done so much work for us in planning our trip, not only in Guatemala, but also in El Salvador, where we were going afterwards. The tour with Knut and Claudia was quite exceptional, not only because of their professional competence and their ability to take care of our well-being, but also because of their great sense of humour which meant that we enjoyed their company so much." See trip report by Kirsten Geertz-Hansen
Kirsten Geertz-Hansen, Farum, Denmark.
---
February 2005, 6 days birding in Petén with CAYAYA BIRDING (Guide: Claudia Avendaño):

"Claudia's expertise and hospitality is a joy and I can only recommend bird-watching with her. You will not only see the birds but also improve your identifying the different calls. I shall definitely tour with them again!"
Eva Kiefer, Zurich, Switzerland.
---
November 2004, 6 days birding in southern highlands and Guatemalan south coast with CAYAYA BIRDING (Guide: Knut Eisermann):

"I was looking for a birding tour to take in November 2004. I scanned the birding tour companies and I came across Cayaya Birding. The website is maintained by Knut Eisermann, the co-owner and tour guide. Knut has put a tremendous amount of work into the site. In addition to the normal information, he has included area descriptions, bird species list for each area and much more useful information. The tour was a customized one: we visited pine and oak forests, dry forest, coastal areas, coffee palntations and some highlands. The birding was outstanding as was the guide. Knut is a wonderful guide as his knowledge of the birds and their songs is remarkable. The Cayaya Birding staff had all the logistics worked out well and the entire trip was a great success. In short, I had a great time birding in Guatemala. Thanks Knut."
Jerry Miller, Simi Valley, California.
---
January 2004, 4 days birding in Los Tarrales with CAYAYA BIRDING (Guide: Claudia Avendaño):

"Claudia was very professional, and both her range and depth of ornithological knowledge were appreciated by our tour members. Claudia patiently explained to our two neophyte birders about "What to look for first," and simultaneously excited our experienced "birder" about the subtilties of both visual and audio identification. Further, your Guide's commitment to training Guatemala's indigenous peoples about long-run resource management was plainly evident in her interaction with our "local" guides. All your promised tour services were delivered promptly and with courtesy. We have recommended CAYAYA BIRDING to two Guatemalan families and our US friends at home." See trip report
Steve and Liz Welch, Wakefield, Road Island, USA.
---
November 2003, 3 days birding in Los Tarrales with CAYAYA BIRDING (Guide: Claudia Avendaño):

"We found CAYAYA BIRDING to be professional, flexible, and thorough. Claudia provided us with excellent birdwatching as well as information on flora and fauna. The accommodations at Los Tarrales were adequate and comfortable and the food was good. We were able to see a working coffee plantation as well as an exotic plant farm. We even met the schoolteacher on the finca and enjoyed watching the children."
David Cole and Betty Slade, Westport Point, Massachusetts, USA.
---
April 2003, customized nature and photo-tour with CAYAYA BIRDING (Guides: Knut Eisermann & Claudia Avendaño):

" 3 weeks with CAYAYA BIRDING means:
Pure nature and culture experiences.
180 observed bird species under competent guiding.
Ornithological top knowledge, also of the bird calls and songs.
Familiar ambience all the time.
Close-up experience of conservation projects where Cayaya Birding is involved.
Experience of an intensive collaboration with the indigeneous people, performed on a high level in a bird monitoring program.
We thank CAYAYA BIRDING for 3 weeks full of experiences. We hope that you will have success during your conservation work, that Quetzal & Co. can keep on flying through the rainforest." See trip report
Yvette Glass, Ulrich Schuster, Wiebke Schuster (Chemnitz, Germany).
---
March 2003, 12 days customized nature tour with CAYAYA BIRDING (Guides: Knut Eisermann & Claudia Avendaño):

"With Claudia and Knut we have experienced for 12 days a very exciting and affectionately prepared tour through the main regions of Guatemala. No question remained unanswered and the tour went on smoothly. We stayed in carefully chosen accommodations aside from main tourist trails. Both guides have sovereign scientific ecological and cultural knowledge and they are engaged in exciting conservation projects. We want to highlight their kind, attentive guiding. We felt always safe and well attended. Local food was always very good. The CAYAYA BIRDING web site is no exaggeration."
Vera Luthardt and Günther Vahrson, University of Applied Sciences Eberswalde, Germany.
---