Birding Reserva Atitlán, Panajachel
Reserva Atitlán is a private nature reserve west of Panajachel on the northern shore of Lake Atitlán in the southern highlands Guatemala . The area protects dry pine-oak forest, which is home to a number of birds restricted to the highlands of northern Central America and Mexico.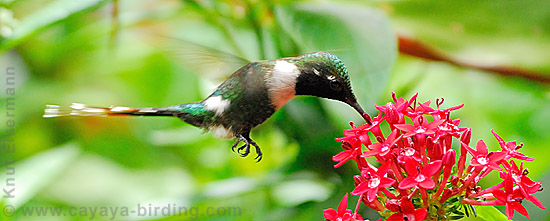 The loop trail traverses the reserve from 1500 to 1800 m elevation. The lower part is more humid and gardened with flowering plants, which Rufous Sabrewing, White-eared and sometimes Garnet-throated Hummingbird and Sparkling-tailed Hummingbird visit. Scrub and adjacent open spaces are home to Yellow-throated Brush-Finch and Prevost's Ground-Sparrow.
In the oak forest forage mixed warbler flocks during the northern winter, including migratory Black-throated Green, Townsend's, Golden-cheeked, Nashville, and Wilson's warbler, and resident Slate-throated Redstart. Flocks are often joined by Rufous-browed Peppershrike and Chestnut-sided Shrike-Vireo. Flocks of Bushy-crested Jays roam through the open forest canopy. On flowering canopy trees, such as Grevillea robusta (introduced from Australia) in a small coffee plantation in the lower part, different orioles can be seen, including the resident Yellow-backed, Black-vented, and Bar-winged Oriole.
Some creeks in Reserva Atitlán are overbridged with hanging bridges which allow views into the forest midstory. To avoid the anoying noise of screeming people zipping along the wires of a zip-line course over the canopy of the reserve, it is recommendable to visit early in the morning.
Access and accommodation: Reserva Atitlán has two cabins with a couple of rooms, which give the opportunity to stay within the reserve. There is, however, no restaurant service. Nearby Panajachel has a large variety of hotels.
How do you support conservation and development in Reserva Atitlán? With your entrance fees you support the conservation of the forest in this private protected area. Reserva Atitlán is part of the Atitlan Important Bird Area (IBA GT015), designated by BirdLife International.