Pine-oak woodland at an elevation of 2400 m (7960 ft) in the north of the Sololá department. The site is easily accessible via the Interamerican Highway, at km 145.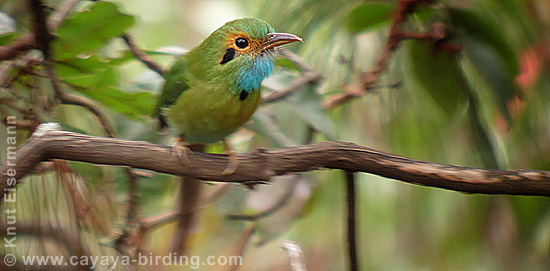 The Association for the Development of Farming and Handicrafts 'La Guadalupana' recently developed a tourism program including rustic lodges, a restaurant, and a network of trails within the forest. These offer opportunities to observe northern Central American endemics such as Pink-headed Warbler, Blue-throated Motmot, Rufous-browed Wren, Rufous-collared Robin, and Black-capped Swallow.
Access and accommodation: Two rustic cabins give the opportunity to stay within the area. The restaurant is located about 500 m from the cabins.

For independent travelers: We are happy to organize your trip to Corazón del Bosque. Please fill this reservation form and we will send you information on rates and space availability as soon as possible.
When is the best time for a visit to Corazón del Bosque? Any time of the year. During the northern winter, mixed-species flocks with northern migrants such as Townsend's Warbler, Red-faced Warbler, and Blue-headed Vireo, and the resident Pink-headed Warbler, Slate-throated and Painted Redstart guarantee promising birding.
How do you support conservation and development at Corazón del Bosque? The area is managed by the Association for the Development of Farming and Handicrafts 'La Guadalupana', Novillero. Using tourist services supports local efforts to protect the communal forest. Corazón del Bosque is part of the Atitlan Important Bird Area (IBA GT015), designated by BirdLife International.