Birding Finca Filadelfia

near Antigua Guatemala with

CAYAYA BIRDING
Finca Filadefia is located in Jocotenango, 2 km north of Antigua Guatemala. Finca Filadelfia ranges in elevation from 1500 to 2430 m (5000 to 8100 ft) and protects patches of pine-oak forest, pine forest, and cloud forest. Filadelfia is part of the Antigua Guatemala Important Bird Area (IBA GT016) in southern Guatemala.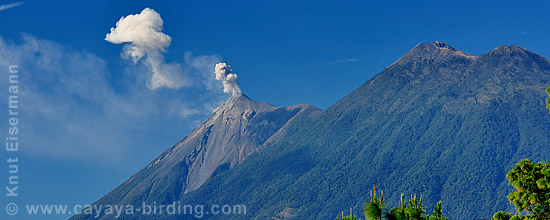 A network of trails and small roads gives access to all kinds of habitat within the finca. Transportation to the different areas is provided with Finca Filadelfia's own oldtimer but well-maintained Unimog trucks with comfortable seating. The drive from the base to the highest point takes about 45 min.
Once there you are in the middle of a small patch of cloud forest, where you can expect birds such as Golden-browed Warbler, Rufous-browed Wren, Black Thrush, and Mountain Trogon. The cloud forest changes gradually to pine-oak forest at about 2200 m. The trail winding through the cloud forest and pine-oak forest is about 2 km long.
On the lower forest egde there is a pergola which allows stunning views to the volcanoes Agua, Fuego, and Acatenango on clear days. The area below 2000 m is now being partially reforested with pine and cypress plantations. Fragments of broadleaf forest have been protected along the bottom of small valleys. The open woodland offers habitat for Rufous-collared Robin, Gray Silky-Flycatcher, Greater Pewee, Steller's Jay, White-eared Hummingbird, Rufous Sabrewing, and Black-headed Siskin. With some good luck it is also possible to see Singing Quail and Ocellated Quail. Blue-throated Motmots and Black-capped Swallow use cavities in the banks along the road for nesting and roosting.
Even during a short visit to Fildelfia for a coffee break in the Cafetenango Restaurant it is possible to see some nice birds. The restaurant is surrounded by coffee plantations shaded by Silky-oaks (Grevillea robusta), an Australian tree species commonly used as shade tree in Guatemalan coffee plantations. Bushy-crested Jays dwell in flock through the plantations. Orioles like the wintering Baltimore Orioles and the rare resident Bar-winged Oriole feed on the Silky-oak flowers. White-eared and Azure-crowned Hummingbirds are common in the coffee plantations. If you would like to learn how coffee is processed from the nursery to the coffee in your cup, you may sign up for Filadelfia's coffee tour.
Sign up for a private full or half day birding tour led by Knut Eisermann or Claudia Avendaño
How to get there: Finca Filadelfia is located 2 km north of Antigua Guatemala. Filadelfia's tours include pickup from your hotel in Antigua.

Accommodation: Finca Filadelfia has a luxurious hotel (see slide show), and Antigua Guatemala offers a variety of hotels for all budgets.
When is the best time for a visit to Finca Filadelfia? Any time of year.
How do you support conservation and development in Finca Filadelfia? Finca Filadeflia is a private area, and the declaration as private protected area is on the way. The finca is part of the Antigua Guatemala Important Bird Area (IBA GT016). The identification of IBAs in Guatemala was coordinated by Knut Eisermann and Claudia Avendaño of CAYAYA BIRDING. By birding Finca Filadelfia you support the owner's efforts to protect the forest.