Private one-day
birding

tours from Antigua Guatemala or Guatemala City
Antigua Guatemala and Guatemala City are nestled in the Guatemalan highlands, with several good birding sites nearby, which are accessible within a 15 min to 1.5 hour drive. A CAYAYA BIRDING private day trip includes pick-up from your hotel in Antigua Guatemala or Guatemala City.

From Antigua and Guatemala City there are several sites with pine-oak forest accessible at day trip distance, which are home to Pink-headed Warbler, Crescent-chested Warbler, Olive Warbler, Mountain Trogon, Blue-throated Motmot, Blue-and-white Mockingbird, Bar-winged Oriole, Black-vented Oriole, Singing Quail, Chestnut-sided Shrike-Vireo, Hooded Grosbeak, Amethyst-throated Hummingbird, Garnet-throated Hummingbird, Green-throated Mountain-gem, and other special birds of the highlands of Mexico and northern Central America.

Also the Guatemalan Pacific coast is accessible within a 1.5 hour drive from Antigua and Guatemala City, providing the opportunity to watch birds in mangroves and coastal swamps, home to a number of herons (Boat-billed, Green, Tricolored, and Little Blue herons, Black-crowned and Yellow-crowned night-herons, Great and Snowy egrets, Bare-throated Tiger-Heron, Least Bittern, and Pinnated Bittern), Roseate Spoonbill and White Ibis, Black Skimmers, Limpkin, several terns, American White Pelican, and others.
A pelagic trip may produce Galapagos, Wedge-tailed, and Pink-footed shearwaters, Least and Black storm-petrels, Nazca, Brown, and Red-footed Booby, Pomarine Jaeger, Sabine's Gull, and others.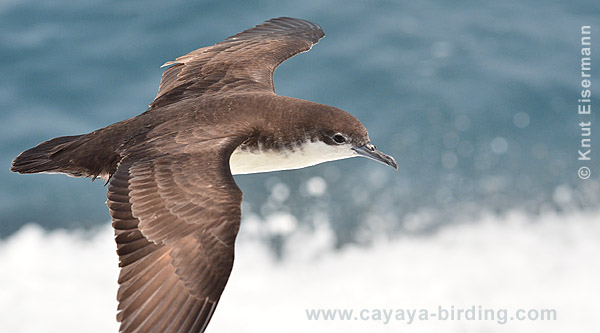 What birders say about CAYAYA BIRDING day tours from Antigua Guatemala and Guatemala City
July 2017, day trip from Antigua Guatemala
"Great birding and great company by a knowledgeable guide, my day trip to Tecpan and Antigua was problems-free and full of regional endemics. Knut (and Claudia) took care of everything before my arrival to Guatemala, and in the field he was very professional (but treat me like a friend, what I appreciate a lot). I got most of my targets and many other goodies! Thanks guys!"
Jan Axel Cubilla, Panama.
June 2017, day trip from Antigua Guatemala
"Claudia was very professional and knowledgeable. Her English was impeccable, and I felt very comfortable spending the day with her. She was lightening quick with her spotting scope, and as a result I was able to see many birds I never would have seen without her assistance. She was a good listener and answered all my questions. I was impressed with her keen ear for the birds. I would highly recommend CAYAYA BIRDING tours to any bird lover. It is worth every penny!"
Tina Collins, USA.
May 2017, day trip from Guatemala City
"We were very pleased with our trip. Very much appreciated the expertise of Claudia, who demonstrated extensive knowledge of birds, habitats, and ecology. Everything from our timely pickup, birding, meals together, and transportation was pleasant and professional. Claudia was very patient with our desires to take photos, and linger at various spots. She was an expert in quickly locating and drawing a bead on numerous species."
Bryan & Judy Hollinger, USA.
August 2016, day trip from Antigua Guatemala
"Since the first response to my email, I realized that Cayaya Birding was a great find. The information provided and the proposed plan were just what I needed and it all went as expected. The professionalism of Claudia was amazing and finding the target species seemed like a routine for her. Besides the great birding, I had a very pleasent time talking about plants, geography and culture."
Esteban Biamonte, Costa Rica.
July 2016, day trip from Guatemala City
"Birded with Knut one day in Finca Pilar close to Antigua. Would have to say he is one of the best birding guides I have ever hired. The Guatemalan Pygmy-Owl and the Ocellated Quail were just two of the great birds we saw that day. Without him as a guide I would have found very few birds. I have also birded with Claudia, and they are both great birding guides."
Mike Parker, USA.
July 2016, day trip from Antigua Guatemala
"At first, I didn't know what to expect, but I was taken completely off guard at how great this trip ended up being! Knut was my guide, and he is incredibly knowledgable about the birds of Guatemala (it appears his partner, Claudia is as well). It was fun to see a veteran birder get as excited as a kid when finding a bird that he sees almost everyday. I highly recommend Cayaya Birding for any birding experience. I will be going with them again before I go home! They plan everything for you, leaving you with nothing to worry about!"
David Schas, USA.