Conteo Navideño de Aves: Tikal 2006
Compilado por Knut Eisermann
El primer Conteo Navideño de Aves en Tikal fue realizado el 14 diciembre 2006, organizado por Cayaya Birding, en colaboración con Wildlife Conservation Society Guatemala, Parque Nacional Tikal y Consejo Nacional de Áreas Protegidas (CONAP); y fue apoyado por el Hotel Jaguar Inn Tikal, Programa de Monitoreo de Aves de PROEVAL RAXMU, Sociedad Ornitológica de Guatemala, y guías de aves independientes. A continuación un breve reporte.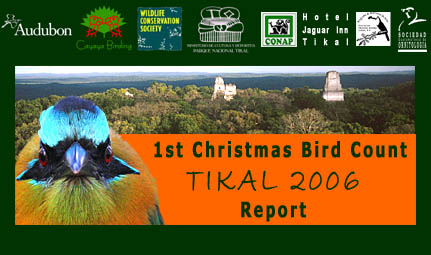 Participantes
Un total de 25 observadores de aves, mayormente residentes en Guatemala, participaron en este primer Conteo Navideño de Aves (CNA) en el Parque Nacional Tikal. Fue un gusto dar la bienvenida a Helen y Paul Brose, quienes iniciaron los CNA en el Lago Atitlán en los años 1970. El conteo se benefició en gran manera por la excelente colaboración de ornitólogos y observadores de aves de Wildlife Conservation Society Guatemala, personal del Parque Nacional Tikal, CONAP Petén, guías independientes del Petén, y miembros de la Sociedad Guatemalteca de Ornitología.
Registros notables
Un total de 156 especies de aves fueron regitradas durante el primer Conteo Navideño de Aves en Tikal el 14 diciembre 2006. Adicionalmente otras 14 especies fueron registradas durante la semana de conteo. El número de especies e individuos registrados fue menor que lo esperado debido a las condiciones de tiempo desfavorables. Llovió casi todo el día, la actividad de aves fue inusualmente baja y no hubo coro al amanecer.
El registro más notable fue probablemente el águila Harpia harpyja (vista durante al semana de conteo por Miguel Acoste), que fue liberada en Belice por el Fondo Peregrino y que está siendo monitoreada por radio telemetría.
El halcón Falco deiroleucus, una especie rara en todo su rango, es residente en Tikal donde anida en cavidades en las antiguas ruinas Mayas. Un juvenil (dejó el nido en 2006) fue visto durante el CNA.
Otros registros notables incluyeron un adulto del ibis Eudocimus albus, que fue visto sobre volando un día después del conteo. Un Vireo gilvus fue visto durante el conteo por Brian McNab. Esta especie inverna en Guatemala principalmente en las tierras altas, pero hay varios reportes de las tierras bajas del Atlántico (Eisermann & Avendaño 2007). El mosquero Contopus borealis es un transitorio común en Guatemala, pero es raramente registrado en invierno. Uno fue visto por Knut Eisermann y Marcial Córdova (foto K. Eisermann).
La especie más abundante fue la oropéndola Psarocolius montezuma; 475 fueron contadas en un sitio de descanso.
A continuación una lista de especies y número de individuos registrados durante el Conteo Navideño de Aves (nomenclatura según AOU 1998 y suplementos, actualización más reciente AOU 2006). Las especies registradas durante la semana de conteo están indicadas por (cw).
TINAMIDAE
Great Tinamou Tinamus major 5
Little Tinamou Crypturellus soui 1
Plain Chachalaca Ortalis vetula 3
CRACIDAE
Crested Guan Penelope purpurascens 6
Great Curassow Crax rubra 4
PHASIANIDAE
Ocellated Turkey Meleagris ocellata 53
Great Egret Ardea alba 1
ARDEIDAE
Green Heron Butorides virescens 2
THRESKIORNITHIDAE
White Ibis Eudocimus albus (cw)
CICONIIDAE
Wood Stork Mycteria americana (cw)
CATHARTIDAE
Black Vulture Coragyps atratus 25
Turkey Vulture Cathartes aura 8
King Vulture Sarcoramphus papa 3
ACCIPITRIDAE
Bicolored Hawk Accipiter bicolor (cw)
White Hawk Leucopternis albicollis (cw)
Roadside Hawk Buteo magnirostris 10
Harpy Eagle Harpia harpyja (cw)
Ornate Hawk-Eagle Spizaetus ornatus 1
FALCONIDAE
Laughing Falcon Herpetotheres cachinnans 8
Bat Falcon Falco rufigularis 1
Orange-breasted Falcon Falco deiroleucus 1
RALLIDAE
Gray-necked Wood-Rail Aramides cajanea 4
ARAMIDAE
Limpkin Aramus guarauna 1
SCOLOPACIDAE
Spotted Sandpiper Actitis macularius 1
COLUMBIDAE
Short-billed Pigeon Patagioenas nigrirostris 10
White-tipped Dove Leptotila verreauxi 1
Gray-headed Dove Leptotila plumbeiceps (cw)
Ruddy Quail-Dove Geotrygon montana 6
PSITTACIDAE
Olive-throated Parakeet Aratinga nana 3
Brown-hooded Parrot Pionopsitta haematotis 30
White-crowned Parrot Pionus senilis 42
White-fronted Parrot Amazona albifrons 5
Red-lored Parrot Amazona autumnalis 19
Mealy Parrot Amazona farinosa 16
CUCULIDAE
Squirrel Cuckoo Piaya cayana 19
Groove-billed Ani Crotophaga sulcirostris 8
STRIGIDAE
Vermiculated Screech-Owl Megascops guatemalae 1
Mottled Owl Ciccaba virgata 4
Black-and-white Owl Ciccaba nigrolineata (cw)
APODIDAE
Lesser Swallow-tailed Swift Panyptila cayennensis (cw)
TROCHILIDAE
Long-billed Hermit Phaethornis longirostris 1
Stripe-throated Hermit Phaethornis striigularis 8
Wedge-tailed Sabrewing Campylopterus curvipennis 3
White-bellied Emerald Amazilia candida 4
Rufous-tailed Hummingbird Amazilia tzacatl 7
Buff-bellied Hummingbird Amazilia yucatanensis (cw)
Purple-crowned Fairy Heliothryx barroti 3
TROGONIDAE
Black-headed Trogon Trogon melanocephalus 4
Violaceous Trogon Trogon violaceus 8
Collared Trogon Trogon collaris 1
Slaty-tailed Trogon Trogon massena 6
MOMOTIDAE
Tody Motmot Hylomanes momotula 1
Blue-crowned Motmot Momotus momota 9
BUCCONIDAE
White-whiskered Puffbird Malacoptila panamensis 1
GALBULIDAE
Rufous-tailed Jacamar Galbula ruficauda 9
RAMPHASTIDAE
Collared Aracari Pteroglossus torquatus 26
Keel-billed Toucan Ramphastos sulfuratus 25
PICIDAE
Golden-fronted Woodpecker Melanerpes aurifrons 10
Yellow-bellied Sapsucker Sphyrapicus varius 1
Smoky-brown Woodpecker Veniliornis fumigatus 2
Chestnut-colored Woodpecker Celeus castaneus 9
Lineated Woodpecker Dryocopus lineatus 3
Pale-billed Woodpecker Campephilus guatemalensis 13
FURNARIIDAE
Plain Xenops Xenops minutus 8
Scaly-throated Leaftosser Sclerurus guatemalensis 1
Tawny-winged Woodcreeper Dendrocincla anabatina 8
Ruddy Woodcreeper Dendrocincla homochroa 7
Olivaceous Woodcreeper Sittasomus griseicapillus 30
Strong-billed Woodcreeper Xiphocolaptes promeropirhynchus 2
Northern Barred-Woodcreeper Dendrocolaptes sanctithomae 3
Ivory-billed Woodcreeper Xiphorhynchus flavigaster 25
THAMNOPHILIDAE
Barred Antshrike Thamnophilus doliatus 5
Plain Antvireo Dysithamnus mentalis 3
Dot-winged Antwren Microrhopias quixensis 4
FORMICARIIDAE
Black-faced Antthrush Formicarius analis 3
TYRANNIDAE
Yellow-bellied Tyrannulet Ornithion semiflavum 4
Greenish Elaenia Myiopagis viridicata 5
Ochre-bellied Flycatcher Mionectes oleagineus 8
Sepia-capped Flycatcher Leptopogon amaurocephalus 4
Northern Bentbill Oncostoma cinereigulare 10
Slate-headed Tody-Flycatcher Poecilotriccus sylvia 2
Eye-ringed Flatbill Rhynchocyclus brevirostris 9
Yellow-olive Flycatcher Tolmomyias sulphurescens 14
Stub-tailed Spadebill Platyrinchus cancrominus 18
Royal Flycatcher Onychorhynchus coronatus 9
Ruddy-tailed Flycatcher Terenotriccus erythrurus 1
Sulphur-rumped Flycatcher Myiobius sulphureipygius 7
Olive-sided Flycatcher Contopus cooperi 1
Tropical Pewee Contopus cinereus 3
Yellow-bellied Flycatcher Empidonax flaviventris 1
Least Flycatcher Empidonax minimus 5
Bright-rumped Attila Attila spadiceus 4
Dusky-capped Flycatcher Myiarchus tuberculifer 14
Great Crested Flycatcher Myiarchus crinitus 2
Brown-crested Flycatcher Myiarchus tyrannulus 8
Great Kiskadee Pitangus sulphuratus 2
Boat-billed Flycatcher Megarynchus pitangua 3
Social Flycatcher Myiozetetes similis 14
Tropical Kingbird Tyrannus melancholicus 4
Thrush-like Schiffornis Schiffornis turdina 29
Rufous Piha Lipaugus unirufus 3
Gray-collared Becard Pachyramphus major 2
Masked Tityra Tityra semifasciata 14
Black-crowned Tityra Tityra inquisitor 3
PIPRIDAE
White-collared Manakin Manacus candei 2
Red-capped Manakin Pipra mentalis 7
VIREONIDAE
White-eyed Vireo Vireo griseus 14
Yellow-throated Vireo Vireo flavifrons 4
Warbling Vireo Vireo gilvus 1
Tawny-crowned Greenlet Hylophilus ochraceiceps 8
Lesser Greenlet Hylophilus decurtatus 25
Green Shrike-Vireo Vireolanius pulchellus 2
CORVIDAE
Brown Jay Cyanocorax morio 62
Yucatan Jay Cyanocorax yucatanicus 9
HIRUNDINIDAE
Northern Rough-winged Swallow Stelgidopteryx serripennis 5
TROGLODYTIDAE
Spot-breasted Wren Thryothorus maculipectus 21
White-bellied Wren Uropsila leucogastra 4
White-breasted Wood-Wren Henicorhina leucosticta 11
SYLVIIDAE
Long-billed Gnatwren Ramphocaenus melanurus 7
Blue-gray Gnatcatcher Polioptila caerulea 4
Tropical Gnatcatcher Polioptila plumbea 7
TURDIDAE
Swainson's Thrush Catharus ustulatus 1
Wood Thrush Hylocichla mustelina 48
Clay-colored Robin Turdus grayi 5
MIMIDAE
Gray Catbird Dumetella carolinensis 24
BOMBYCILLIDAE
Cedar Waxwing Bombycilla cedrorum 5
PARULIDAE
Blue-winged Warbler Vermivora pinus (cw)
Golden-winged Warbler Vermivora chrysoptera 1
Tennessee Warbler Vermivora peregrina 1
Yellow Warbler Dendroica petechia 1
Chestnut-sided Warbler Dendroica pensylvanica 1
Magnolia Warbler Dendroica magnolia 51
Yellow-rumped Warbler Dendroica coronata 1
Black-throated Green Warbler Dendroica virens 6
Black-and-white Warbler Mniotilta varia 24
American Redstart Setophaga ruticilla 25
Worm-eating Warbler Helmitheros vermivorum 7
Ovenbird Seiurus aurocapilla 2
Northern Waterthrush Seiurus noveboracensis 3
Kentucky Warbler Oporornis formosus 40
Common Yellowthroat Geothlypis trichas 3
Hooded Warbler Wilsonia citrina 5
Wilson's Warbler Wilsonia pusilla (cw)
Golden-crowned Warbler Basileuterus culicivorus 14
Yellow-breasted Chat Icteria virens 3
Gray-throated Chat Granatellus sallaei 2
THRAUPIDAE
Gray-headed Tanager Eucometis penicillata 13
Black-throated Shrike-Tanager Lanio aurantius 15
Red-crowned Ant-Tanager Habia rubica 35
Red-throated Ant-Tanager Habia fuscicauda 38
Summer Tanager Piranga rubra 13
Blue-gray Tanager Thraupis episcopus (cw)
Yellow-winged Tanager Thraupis abbas 1
EMBERIZIDAE
White-collared Seedeater Sporophila torqueola 4
Green-backed Sparrow Arremonops chloronotus 7
Black-headed Saltator Saltator atriceps 4
CARDINALIDAE
Black-faced Grosbeak Caryothraustes poliogaster 10
Blue Bunting Cyanocompsa parellina 1
Indigo Bunting Passerina cyanea 1
ICTERIDAE
Melodious Blackbird Dives dives 8
Great-tailed Grackle Quiscalus mexicanus (cw)
Bronzed Cowbird Molothrus aeneus (cw)
Giant Cowbird Molothrus oryzivorus 1
Black-cowled Oriole Icterus prosthemelas 18
Baltimore Oriole Icterus galbula 2
Yellow-billed Cacique Amblycercus holosericeus 1
Montezuma Oropendola Psarocolius montezuma 475
FRINGILLIDAE
Scrub Euphonia Euphonia affinis 4
Yellow-throated Euphonia Euphonia hirundinacea 14
Olive-backed Euphonia Euphonia gouldi 13
Referencias
AOU (1998) The American Ornithologists' Union Check-list of North American Birds. 7th edition. American Ornithologists' Union, Washington, D.C.

AOU (2006) Forty-seventh supplement to the American Ornithologists' Union check-list of North American birds. Auk 123: 926-936.

Eisermann, K. & C. Avendaño (2007) Lista comentada de las aves de Guatemala - Annotated checklist of the birds of Guatemala. Lynx Edicions, Barcelona, Spain.
---
Para ver resultados de todos los Conteos Navideños de Aves en las Américas visite http://www.audubon.org/conservation/science/christmas-bird-count
El código de búsqueda del "CONTEO NAVIDEÑO DE AVES EN TIKAL, GUATEMALA" en la base de datos de AUDUBON en línea es: GMTK.
---