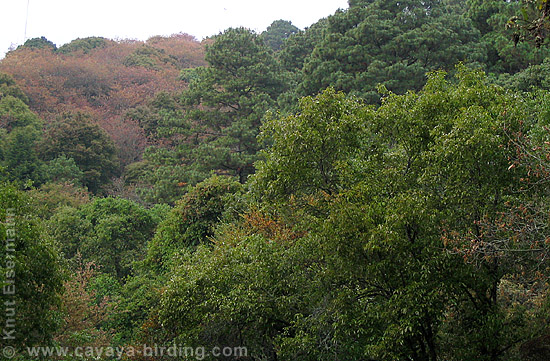 Pine-oak woodland at Cerro Alux.
Photo/© Knut Eisermann.
Birding at Cerro Alux. This pine-oak forest was declared as a watershed reserve in 1997, and it covers 5,372 hectares of forest at an elevation of 2,200 m (7,220 ft). It is located on the Interamerican highway on the outskirts of Guatemala City. Trails cross the woodland and open habitat with secondary growth.

Interesting species that are found here include several northern Central American highland endemics: Blue-and-white Mockingbird (Melanotis hypoleucus), Rufous-collared Robin (Turdus rufitorques), Rufous-browed Wren (Troglodytes rufociliatus, Blue-throated Motmot (Aspatha gularis), Black-capped Swallow (Notiochelidon pileata), and Black-capped Siskin (Carduelis atriceps).
Northern Flicker (Colaptes auratus) at Cerro Alux. Photo/© Knut Eisermann.
Accommodation: For independent travelers:
We can make a reservation for you
Please fill this reservation form and we will send you information on rates and space availability as soon as possible.
When is the best time for birding at Cerro Alux? Any time of the year.


How do you support conservation and development at Cerro Alux? Your visit supports the long term management efforts of the local government, which include surveillance to prevent forest fires and illegal trading of wildlife. Cerro Alux is one of the few primary forests remaining close to Guatemala city. It's protection is important for the conservation of water resources and production of oxygen.