Hacienda Tijax is located on the northern shore of Río Dulce, protecting 48 ha of rainforest. Tijax offers several options for birding within the area, and other sites in Izabal at a day-trip distance.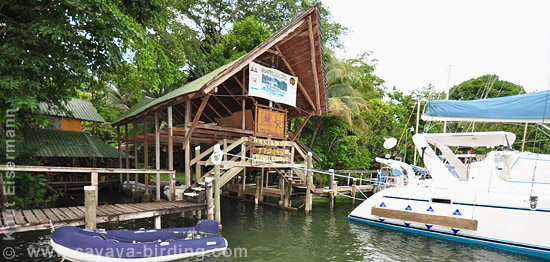 Hacienda Tijax has a 3 km long loop trail. Beginning at the Tijax Lodge, a boardwalk leads 200 m through swamp forest, with some impressive buttressed trees and curled lianas. Rufous-tailed Hummingbird was the most common bird we heard during a short visits in September 2010. Then the trails traverses a ranch land with some solitary trees, which is interesting for birding early in the morning, before the tropical sun heats up the area. The grassland harbors a dense population of Ruddy Crakes. Several Thick-billed Seed-Finch and White-collared Seedeaters were feeding on the grass seeds. Green-breasted Mango and Rufous-tailed Hummingbird fed on some flowering shrubs. We saw several Black-headed Trogons, Tropical Kingbirds, Plain Chachalacas, and Golden-fronted Woodpeckers along the forest edge and in solitary trees.
Several well made trails cross the rainforest fragment, where typical Atlantic slope rainforest birds can be seen. We saw Gray-chested Dove walking along the trail. Red-crowned Ant-Tanager, Spot-breasted Wren, Blue-crowned Motmot, Northern Bentbill, Royal Flycatcher, and Little Tinamou were singing and calling in the understory. Ivory-billed and Wedge-billed Woodcreepers moved along the tree trunks, and Olive-backed Euphonia, Lesser Greenlets, Dusky-capped Flycatcher, Yellow-bellied Tyrannulet, and Gartered Trogon were calling in the canopy.
A 120 m long hanging bridge in the midstory of the forest is a highlight for birders not afraid of height. The bridge with a small platform in the middle is a good lookout to see not just canopy birds, but also other wildlife hardly seen from the forest ground, such as Green Tree Anoli (Norops biporcatus, see slides).
A tower at the highest point of the reserve provides a lookout over the surrounding rubber tree plantation, rainforest, and part of the Río Dulce. This spot is located on a raptor migration route. Broad-winged Hawk is the most abundant species seen there during autumn migration.
A tiny bird island is located 500 m off shore the Tijax Lodge, where Neotropic Cormorants and Cattle Egrets are nesting each year. Tijax Lodge has kayaks available for rent or can also arrange a boat trip to get there. Other species of waterbird can be seen during a boat trip along the Río Dulce.
Access and accommodation: Hacienda Tijax is easily accessible on the paved road from Guatemala City or from Petén. Tijax Lodge offers comfortable air-conditioned rooms (some with fan only), pool, and a great restaurant and bar. If you are a sailing birder, Tijax Marina is your place to anchor. The docks can accommodate 30 boats.
When is the best time for a visit to Tijax? Birding is good year round. September and October are the months of autumn raptor migration.
How do you support conservation and development in Tijax? With your visit you support Tijax's efforts to conserve 48 ha of rainforest, which is part of the Important Bird Area Guatemalan Caribbean Slope (IBA GT011).