Los Tarrales offers always a little surprise, be it on our birding tours (trip reports) or visiting on our own. Two days in mid May were meant to be "Ciccaba days" at Los Tarrales.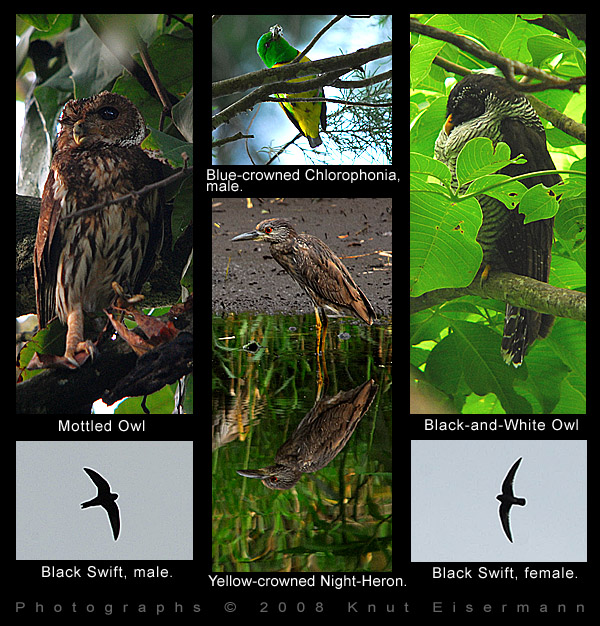 Two species of Ciccaba owls occur in Guatemala, the Mottled Owl (Ciccaba virgata), and the Black-and-White Owl (Ciccaba nigrolineata). Mottled Owl is the most common owl in Guatemala, but it requires some good luck to see Black-and-White Owl. This time we detected two pairs of them in the lower part of Los Tarrales. One pair was calling at dusk, we tracked it down and had nice views of one of them flying high in the canopy, and perching on a branch. Another pair we saw on a day roost, which has been used by them for almost a month already. Several birds, including Clay-colored Robins, Altamira Orioles, and Melodious Blackbirds, were mobbing a Mottled Owl, which perched in a tree and finally flew off to a dense bamboo stand to get some rest. We saw at least two fledged juvenile Mottled Owls flying between perches in the mid canopy of shade trees in a plantation, giving a soft hiss addressed to the adults.
Just arriving at Los Tarrales, a mixed flock of swifts was flying overhead, allowing nice comparisons between the different species. Many of them were Black Swifts, apparently during migration. We saw also Chestnut-collared, White-collared, and Vaux's Swift.
At the small lagoon, a juvenile Yellow-crowned Night-Heron was hunting at dusk. We saw several species with nesting behavior during this visit to Los Tarrales, including Blue-crowned Chlorophonia, Tropical Pewee, and Rufous-breasted Spinetail.

Knut Eisermann & Claudia Avendaño