Los Andes Reserve, July 2008
During a short visit in July 2008 we focused on the lower area of the reserve, located between 1000 and 1500 m. This part is dominated by coffee and tea plantations, interspersed with fragments of humid broadleaf forest, especially in the canyons which are not suitable for any kind of agriculture.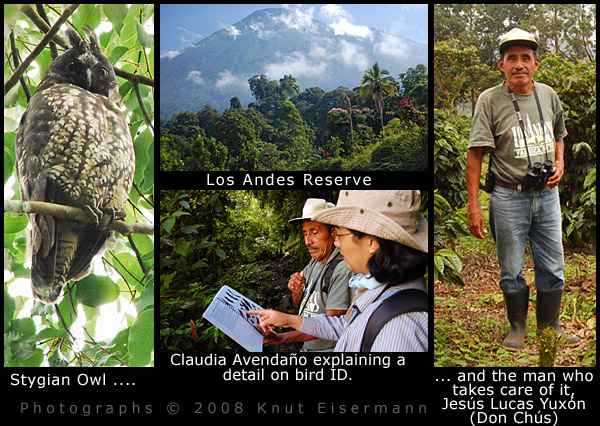 We went around with Don Chús, local guide in Los Andes who likes birding very much. He goes birding in the reserve also in his spare time. He told us that he was observing a large owl with ears since several months, and that he identified it as Stygian Owl. This species is rarely recorded in Guatemala. We went with him to the roost site, and indeed, there was a Stygian Owl. Don Chús' record will be reported in the season report in the North American Birds journal. He is taking care that the birds are not disturbed by everyday work in the plantation.
Some forest patches in the lower part of Los Andes are accessible on foot paths, where we recorded typical species of this kind of habitat like Violet Sabrewing, Emerald-chinned Hummingbird, Green-throated Mountain-gem, White-breasted Wood-Wren, Spotted Woodcreeper, Brown-backed Solitaire, Slate-throated Redstart, Scaly-throated Foliage-gleaner, Tody Motmot, Red-crowned Ant-Tanager, Long-tailed Manakin, and Greenish Elaenia.
In the agricultural area with plantations and scrub we observed among other species Clay-colored Thrush, White-collared Seedeater, Rufous-breasted Spinetail, Grayish and Black-headed Saltators, Long-billed Gnatwren, Yellow-billed Cacique, Yellow-winged Tanager, and Rufous-browed Peppershrike. Overhead we saw Chestnut-collared Swifts, Gray and Red-tailed Hawks, Bat Falcon, Turkey and Black Vultures, and Pacific Parakeet. The Los Andes Lodge has a couple of hummingbird feeders, where one or two Blue-tailed Hummingbirds came in.

Knut Eisermann & Claudia Avendaño