Punta de Manabique is a Wildlife Refuge, designated Ramsar wetland of international importance, and part of of the Guatemalan Caribbean Slope Important Bird Area (IBA GT011). More than 300 bird species have been recorded, including the Endangered Yellow-headed Parrot.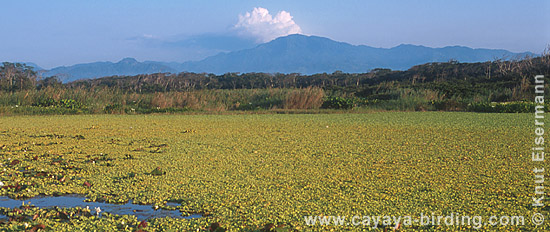 Main habitats of the peninsula of Punta de Manabique are swamp forests, estuaries, costal scrub, mangroves and beaches. Some parts of the forest are accessible on board walks, where with some good luck Black-crowned Antshrike and Cocoa Woodcreeper can be seen, which reach in eastern Guatemala and southern Belize their northern limit of distribution. Most common resident birds in the forest are Rufous-tailed Hummingbird, Lesser Greenlet, Stripe-throated Hermit, Spot-breasted Wren, White-breasted Wood-Wren, White-collared Manakin, Chestnut-colored Woodpecker, and Northern Bentbill. Most common Nearctic-Neotropical migrants are Magnolia Warbler, Gray Catbird, Northern Waterhrush, and Wood Thrush. Most intense migratory movements can be witnessed at the beginning of October and in March-May. Raptor migration, including intensive innertropical movements of Hook-billed Kites, occur in the same time. Woodstorcks migrate intensively in March. In mid-May, a massive migration of Common Nighthawks has been observed.
Birds of the mangrove belt include Mangrove Vireo, Gray-necked and Rufous-necked Woodrail, White-crowned Pigeon, and several herons (Bare-throated Tiger-Heron, Yellow-crowned Night-Heron, Boat-billed Heron, Green and Tricolored Heron, and others). Although Punta de Manabique is not a very important wintering area for great numbers of shorebirds, 25 species have been recorded, which can be seen along the beaches and in estuaries. From March to September Great Egrets maintain a mixed breeding colony together with Anhingas and Neotropical Cormorant. Seabirds such as different sulids (Brown and Red-footed Booby), terns (Royal, Caspian, Sandwich, Common, Sooty, and Least Tern), Magnificent Frigatebird, Brown Pelican, Pomarine and Parasitc Jaeger, can be seen from the shore. Hundreds of Green Iguanas appear in February from the interior vegetation on the beaches to lay their eggs. Also different species of sea turtles use the beaches to deposit their clutches. With some good luck, Tapir, Jaguar, and Mantled Howler Monkey can be seen.
Access and accommodation: Punta de Manabique Wildlife Refuge is managed by the conservationist organization FUNDARY (Fundación Mario Dary). Fundary maintains a biological station where guests can stay in rustic rooms with a shower, kitchen, purified water, and a beach right nearby. Manabique is accessible only by boat- a 30 km trip from Puerto Barrios, which helps minimize human impact on the protected area.
When is the best time for a visit to Punte de Manabique? The best time of year is from March to May. These months fall within the dry season and the sea is usually calm, a basic condition for access to the observation sites in the area.
How do you support conservation and development in Punta de Manabique? The local population in the Manabique area is made up of mostly Ladinos (people of Spanish decent), from Guatemala, Honduras and Belize. They have been living in this area for years, surviving by exploiting many of the area's natural resources, especially fish. Approximately 2,000 people live within the protected area and the main species they fish for is "Manjua", an anchovy only a few centimeters long. While this has been a lucrative activity for decades, recent studies found that the species, which moves in big swarms through shallow waters, has been drastically over-fished all along the coast of the Gulf of Honduras. To target this isuue, Guatemala, Honduras and Belize signed an international agreement to drastically reduce the fishing of this species.
Your visit to Manabique will help support Fundary's conservation work in the area and help the local people transition to new income generating activities. One of Fundary's core principles is that local people should be a driving force for conservation in the protected area and, as such, Fundary works with the resident population to try and find alternative income sources, which do not harm the natural environment. The ecotourism program in Manabique is an example of this type of alternative income source. While you visit the area, all of your services will be provided by local people (boat ride, meals, lodging). In this way, you will be helping the local people to earn a living without negatively impacting their natural environment. Punta de Manabique is part of the Important Bird Area Guatemalan Caribbean Slope (IBA GT011).