Cobán is located in the valley of Río Cahabón, at an elevation of 1300 m above sea level. The skyline around Cobán is shaped by mountains, covered by humid broadleaf, pine-oak, and pine forests. The mountains of some of our birding hotspots are visible from the city. Cobán has many green areas, a wide variety of highland and lowland birds can bee seen even within the city.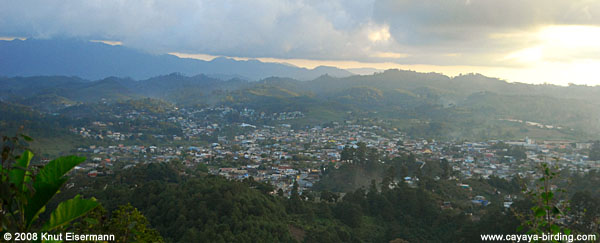 Historical and cultural background. Cobán was founded in 1538 by the Dominican Friar, Bartolomé de Las Casas. Thanks to his efforts the whole region of the Verapaz (translated as "True Peace") was somehow peacefully colonized, without some of the horrendous practices used by the Spaniards in many other parts of Central America and the Caribbean (de las Casas 1992. Short account of the destruction of the Indies. Penguin Books, London, UK. Translation of the original work of 1542, with an introduction by Anthony Pagden.). Over the years, coffee, cardamom and sugar cane plantations made Cobán a prospering town. As the capital of the department of Alta Verapaz, and heart of the area settled by the Q'eqchi' Maya ethnic group, the typical dress of the Q'eqchi' women and the Q'eqchi' language can be seen and heard throughout Cobán. There are 23 Mayan ethno-linguistic groups in Guatemala and the Q'eqchis are the second largest of these groups with 474,000 as reported in the 2002 national census. One unique aspect of the citizens of Cobán is that most are bilingual, speaking Q'eqchi' and Spanish, even those citizens who are not of Mayan decent. While in Cobán you can visit the Central Market and admire more than 600 species of orchids in the Vivero Verapaz, orchid nursery.
Accommodation: Cobán has a wide array of hotels, welcoming visitors with a quaint colonial style and offering a range from basic to more luxury services. There are also specialty coffee shops and restaurants that offer delicious typical and international cuisine and several internet cafes to maintain contact with friends and family.