Finca Las Nubes is a coffee farm located on the southern foothill of Santo Tomás volcano in the western Guatemalan highlands. The estate has been declared private protected area in 2004, engaging the conservation of primary cloud forest and pine-oak forest on the upper slope of Santo Tomás volcano, from the elevation of 1,900 m to 3,300 m (6,200 - 10,800 ft).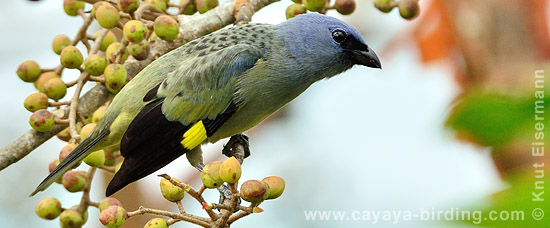 The forest ranges farther downhill along river canyons, providing refuge for the globally threatened species such as Azure-rumped Tanager and Highland Guan. The finca is part of the Santiaguito Volcano Important Bird Area (IBA GT014). The award-winning Las Nubes coffee is produced in industrial plantations between 1,000 and 1,900 m (3,280 - 6,200 ft).
Finca Las Nubes provides rides with 4-WD vehicles from the lodge at 1200 m through the coffee plantations to the forest edge. The ride takes about 30 min. The cloud forest is accessible on a small foot trail ranging in altitude from 1750 to 1900 m, where cloud forest specialists such as Resplendent Quetzal, Common Bush-Tanager, and Green-throated Mountain Gem can be observed. The forest of the southern slopes of Santo Tomás volcano are habitat also for large raptors such as Ornate and Black Hawk-Eagle.
The finca buildings with guest house, bar and dining room are located at an elevation of 1200 m. Tall trees in that area provide a small island of bird habitat surrounded by coffee plantation. Common low and mid-elevation birds can be seen here, such as Cinnamon Hummingbird, Golden-fronted Woodpecker, Clay-colored Thrush, Yellow-winged Tanager, Yellow-throated Euphonia.
Access and accommodation: Finca Las Nubes is located north of Mazatenango. A paved road provides easy access. Finca Las Nubes has a guest house with 4 rooms with private bathroom.

For independent travelers: We would be happy to organize your trip to Finca Las Nubes. Please fill this reservation form and we will send you information on rates and space availability as soon as possible.
When is the best time for a visit to Finca Las Nubes? Any time of year.
How do you support conservation and development in Finca Las Nubes? Finca Las Nubes is part of the Important Bird Area Santiaguito Volcano (IBA GT014). With your visit you help to raise an environmental awareness among the local population, and help to maintain the forest reserve on the upper slope of the volcano.